Product Description
It is a kind of new building and industry boards,Due to its goods performance in fireproof, moisture-proof and sound insulation and durability. So it is the ideal decoration boards for ceiling board and partition boards.
Our products are of good moisture resisting ability.In high humidity places such as laundry room,it can still maintain stable performance,doesn't generate swelling or shaping,so its durability is 3 to 5 times as that of the other materials.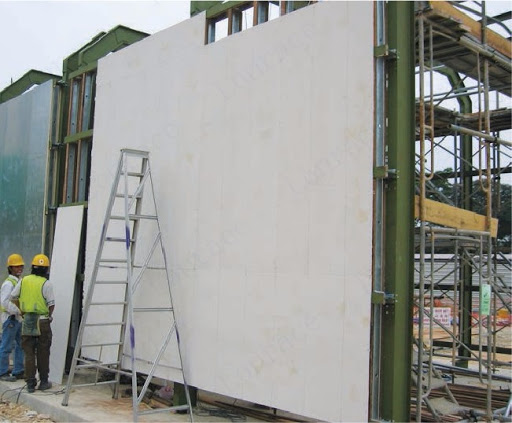 Main Features:
1. 100% Non-asbestos,environmental friendly;
2. Fireproof,waterproof and humidity resistance
3. Moisture preserving,thermal insulation and energy saving;
4. Lightweight and earthquake resistance
5. Good property of sound-absorbing and sound insulation;
6. Easy installation
Specifications
thickness(mm)
Width(mm)
Length(mm)
4.5,5,6,8,9,10,12,15
608,1220
2440,3000
Dimensional deviation
thickness
≤8mm
±0.3mm
≥ 9mm
±0.5mm
width
≤1220mm
±3mm
>1220mm
±4mm
length
≤2400mm
±4mm
>2440mm
±5mm
Physical properties:
density
1.2-1.6g/cm3
thermal conductivity
≤0.29 W/(m.k)
water absorption
≤40%
water contain
≤10%
moisture movement
≤0.25%
bending strength
average
>12 Mpa
strength ratio
>60%
non-combustibility
class A
Applications:
BRD calcium silicate board is for indoor partition and ceiling of moisture proof and fire proof in the wet area building.It is extensively used in office building, hotel, hospital, factory building, school, villa, theatre and other kinds of art building.
Product Installation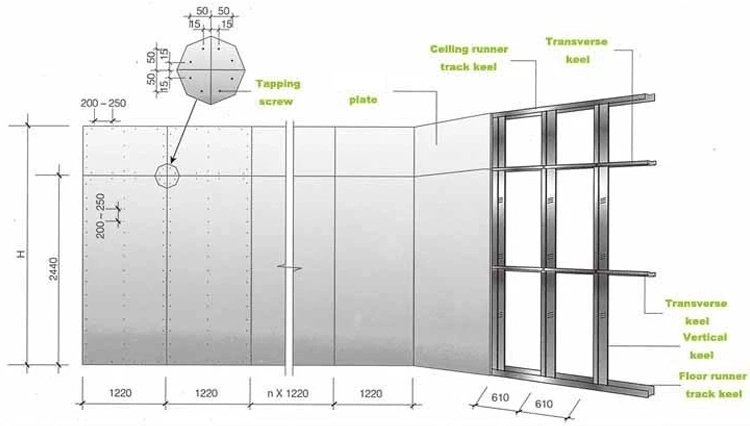 Partition Installation Method
1. Cutting the board material to the dimensions needed (about 10mm lower than wall height)
2. Board material is fixed on keel in anchoring seam way with tapping screw: the interval of tapping screw is generally
about 200~250mm with screws sinking 0.5mm under the board face.
3. The expansion seam of about 4mm between boards should be kept.
4. The shrouding should be fixed from the middle to the four sides and cannot be operated at multipoint simultaneously
to avoid generating inner stress to make board material bucking.
5. Before board being packaged and fixed, depending the needs, glass cotton or rock cotton can be filled.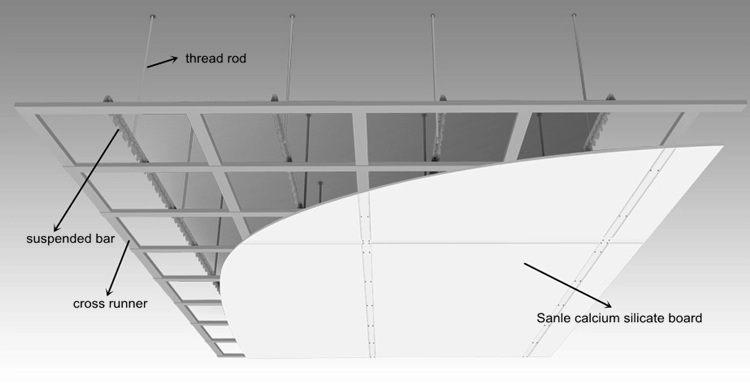 Ceiling Installation Method
1.Carry out ceiling line-measuring to determine the ceiling's fixed position, the boom's central range is generally 1200.
2.Connect and fix the boom and main keel with hanging piece to make the main keel keep level position.
3.Vertically fix the sub-keel to the main keel with hanging piece; the sub-keel axis'central range is 612mm.
4.Install the laterally supporting keel properly, its central ranges is 1224mm.
5.Fix the board on sub-keels with tapping screws, and to well the seam-connecting treatment.
Notice:
The hanging system of Sanle board combined with light steel keel is divided into two kinds of person-standing type and non person-standing type; for the non person-standing type,only consider the self-weight of ceiling and light.Lamp without loading other loads; for the person-standing type. Consider about 80~100kg load when someone repaired it.
Product Application
1. Attic panel for loft steel structure; 2. exterior wall cladding panels; 3. Interior wall partition board; 4. External & interior insulation composite panels; 5. Floor plates; 7. Waterproof wall in the kitchen or wash room; 8 .Decoration board for Interiors & Exteriors wall; 9. Explosion-proof 10. Fireproof board roof sheathing.