Description
BRD Steel bar truss floor deck is the integrated fabricated formwork for which steel bar is to be processed into steel bar truss and then the steel bar truss is to be welded with galvanized profiled sheet. In the construction stage, the steel bar truss floor deck has features such as economy, convenience, safety, and reliability, etc and it has been widely used by structure and building fields, such as multilayer workshops, multilayer, high –rise and ultra-high steel structure buildings and various irregular floor, concrete structures and high speed railway, etc.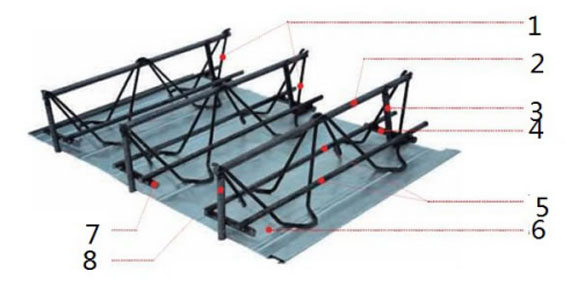 1.Web rebar
2.Upper rebar
3.Vertical support rebar
4.Horizontal support rebar
5.Lower rebar
6.Deck
7.Horizontal support rebar
8.Vertical support rebar
Features
1.Unique double folding design
Effectively increases board edge strength, it hard to bend or deform during transportation and construction. Allows for easy fastening at the bottom.
2.Improved form spot welding technology
Original form spot welding equipments are improved to make welding current of many welding heads more balanced and stable, so the floor deck will be free from cold joints or weld penetration phenomenon.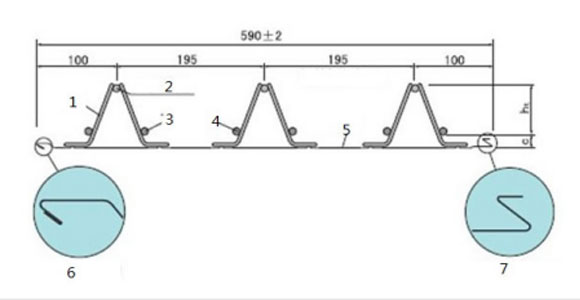 1.Web rebar
2.Upper rebar
3.Lower rebar
4.Deck
5.Connection clip of deck
6.Connection clip of deck

A.Web rebar
B.Upper rebar
C.Vertical support rebar
D.Horizontal support rebar
E.Lower rebar
F.Deck
G.Horizontal support rebar
H.C-thickness of the protective layer of contrete.
Specification
Upper and lower steel bar used grade 3 hot rolled steel bar or cold rolled ribbed steel bar.
Web member steel bar used cold rolled plain steel bar
Bottom form steel sheet can use galvanized steel sheet or cold rolled steel sheet according to different applications, normal thickness is 0.4-0.5mm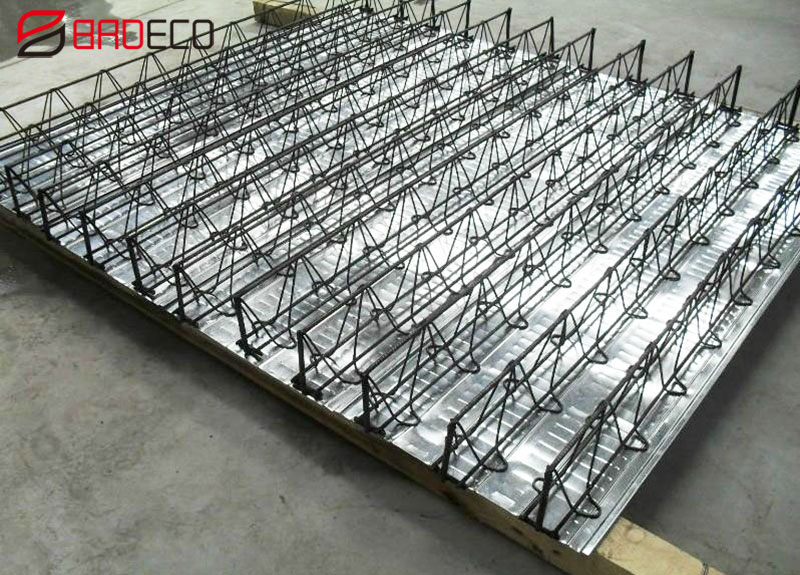 | | |
| --- | --- |
| Name | Specification |
| Zinc coating | 80g/㎡ - 275g/㎡ |
| Steel sheet material | Q235,Q345 |
| Width | 576mm/600mm |
| Steel sheet thickness | 0.4mm,0.5mm,0.6mm |
| Height | 70mm - 270mm |
| Top and bottom bar diameter | 6mm - 12mm |
| Distributing bar diameter | 4mm - 10mm |
| Standard | AISI,ASTM,BS,DIN,GB,JIS |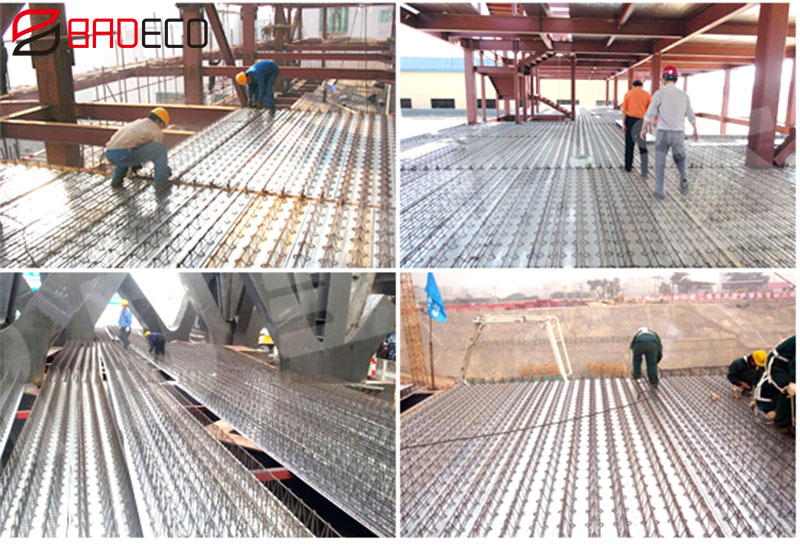 Advantages
Economic

The load-bearing of the truss is able to support weight without added structures that could add to the cost of construction.

Convenient

Field steel binding is reduced by 60-70% and construction is much quicker.

Safe

The mechanical property is basically the same as a traditional floor slab with increased crack resistance. The bottom die is not loaded in the use phase, eliminating fire and corrosion risks.

Reliable

The reinforcements are arranged uniformly. The two-way stiffness of the floor slabs are similar which is conducive to seismic stud welding.
Application
It is widely applied for the mezzanine construction of commercial and civilian buildings, such as factories, hospitals, gymnasiums, schools, bridge projects and residential buildings.
Installation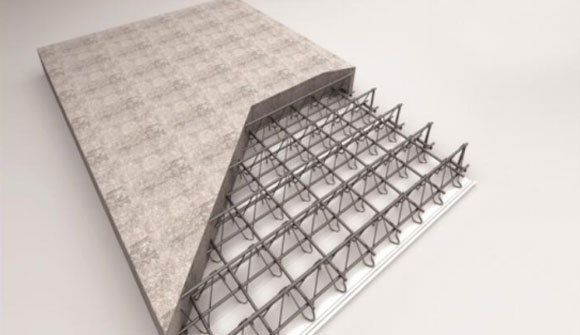 1. Lifting
2. Edges and angles
3. Laying
4. Vertical bearing steel welding
5. Stud welding
6. Edge template welding
7. Site layout pipeline
8. Additional reinforcement, field installation
9. Concrete pouring
10. Finished product protection