Description of Cold Room Wall Panel
The pu cold room panels are consisted by an inner metal plate, an outer metal plate, and an intermediate polyurethane insulation layer. BRD brand polyurethane insulated panel for cold storage can be produced with a thickness of 20-300 mm.
The appearance of the board is of pressed in compression bar or clear surface. The thickness of the color coated steel plate is 0.4 mm-0.8 mm. The effective width of the cold storage board is 1 m. The insulation core material is polyurethane (PU). The fire rating is B1 and B2.
It has light self weight, simple structure and beautiful appearance. It can effectively solve the temperature difference in the cold storage industry, polyurethane foam insulation panel is the ideal insulation material for cold store/room/warehouse.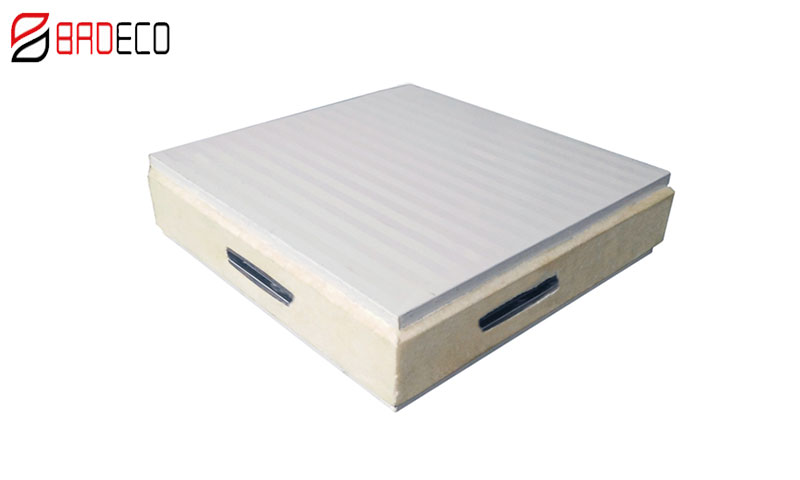 Polyurethane Insulated Panel
for Cold Store/Warehouse/Room Advantage
1. Insulation and insulation design:
the interface of BRD polyurethane insulated panel for cold storage adopts two concave and three convex to improve the insulation and air tightness of the joint and effectively solve the problem of non insulation in cold storage.
2. Super strong bearing capacity is not deformed:
BRD polyurethane insulated panel for cold storage has stable quality, long service life, high comprehensive cost performance, super bearing capacity and service life of more than 30 years.
3. The construction period is shortened by more than 40%:
the overall structure of BRD polyurethane insulated panel for cold storage has the advantages of light weight, large span and high load, convenient installation, and the construction period can be shortened by more than 40%.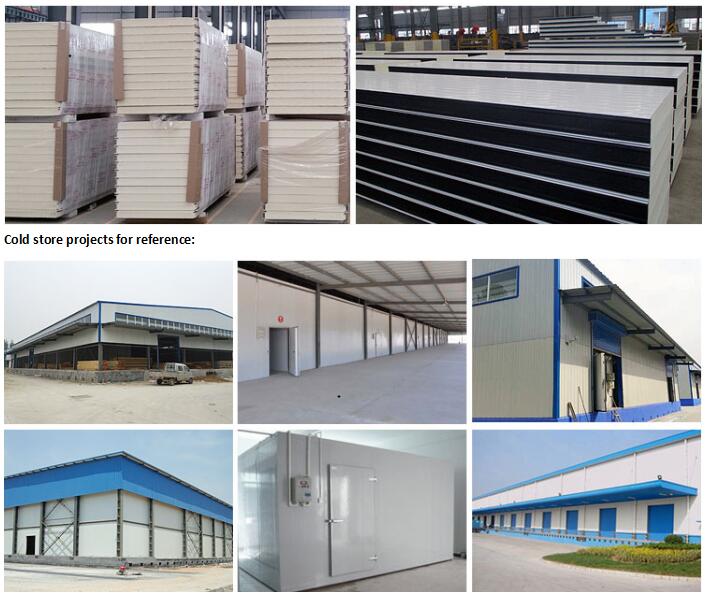 Cold store use polyurethane insulated panel connection method

Cold Store Use Polyurethane Insulated Panel Features
| | | |
| --- | --- | --- |
| Item | Data | Description |
| Thermal conductivity | ≦0.023w/m.k | The thermal conductivity is very low, 5cm thick cold storage plate is equivalent to 100cm thick concrete insulation effect |
| Core material | High level | 40-47kg/m3 |
| Obturator rate | Above 97% | Waterproof and moisture-proof, no increase in thermal conductivity due to moisture absorption, and no water seepage on the wall |
| Thickness | Custom made | 20-300mm |
| Weather ability | Lasting | After more than 6 months of weather resistance test, the performance is stable |
| Stability | Excellent | The compressive strength is over 180kp, and the temperature resistance of the plate is good, without deformation |
| Flame retardant property | Excellent | According to the inspection of the national fire protection building material quality supervision and testing center, all quality changes have reached gb8624b1, which is a thermosetting material. The alkene is burned and carbonized into ashes, and it can be extinguished without dripping or spreading |
| Environment friendly | Excellent | After high-pressure foaming, the Polyurethane insulated panel for cold storage conforms to the European environmental protection standard, free of formaldehyde and microbial attack |
How to choose insulation panel materials for cold storage?
The selection of thermal insulation materials for cold storage must select the panel with excellent thermal insulation and insulation performance.There are several types of thermal insulation materials for cold storage.
One is to process the warehouse plates with hooks on four sides according to the length, width and height.
100mm thickness Polyurethane insulated panel for cold storage are generally selected for high and medium temperature cold storage, and 150mm thickness are generally selected for low temperature cold storage and freezing cold storage.
The thermal insulation materials are polyurethane, Polyurethane does not absorb water, has excellent heat insulation performance, heat preservation performance and fire protection performance. It can reduce the heat transfer caused by the temperature difference between inside and outside, so as to achieve the maximum efficiency of refrigeration and refrigeration system. It is the best building insulation material recognized internationally at present, and is widely used in the market.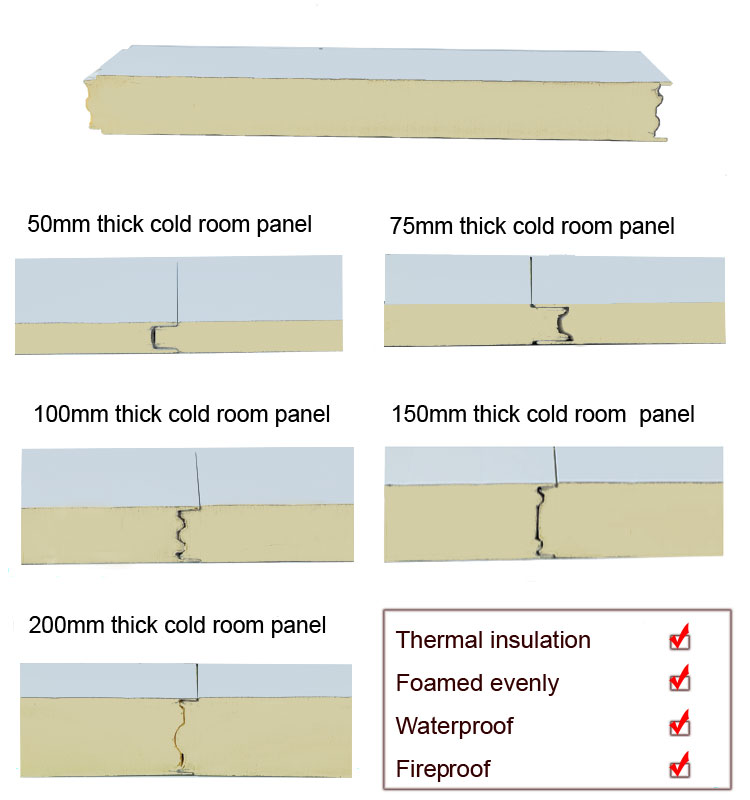 Design temperature and relative humidity of cold room
No.

Item

Inside temperature(℃)

Humidity(%)

Application

1

Cold room

0~4

——

Meat, egg, etc

2

Freezing room

–18 ~ –23

——

Meat, poultry, rabbits, ice eggs, vegetables, etc

–23 ~ –30

——

Fish, shrimp, etc

3

cold storage room

0

85~90

Chilled meat and poultry

–2 ~ 0

80~85

Fresh egg

–1 ~ +1

90~95

Ice fish

0 ~ +2

85~90

Fruit and vegetable

–1 ~ +1

90~95

Cabbage, garlic bolt, onion, spinach, coriander, carrot, cabbage, celery, lettuce, etc

+2 ~ +4

85~90

Potatoes, oranges, lychees, etc

+7 ~ +13

85~95

Persimmon pepper, bean, cucumber, tomato, pineapple, orange, etc

+11 ~ +16

85~90

Banana etc

4

cold storage room

–15 ~ –20

85~90

Frozen meat, poultry, by-products, frozen eggs, frozen vegetables, popsicles, etc

–18 ~ –25

90~95

Frozen fish, shrimp, frozen drinks, etc

5

Ice storage

–4 ~ –6

——

Saltwater ice