Description
EPS (Polystyrene) Sandwich Panels are composed of 3 layers, the external and internal is two dyed Galvanized or Aluminum corrugated plates, and core Polystyrene (EPS) rigid foam. Due to the advantages as heat and sound insulation, high load capacity, EPS panels are applied as external walls and internal division walls, installed vertically or horizontally on single- or multi-span structure. The panels can be installed horizontally or vertically. The core is made of expanded polystyrene, which is produced by our own factory.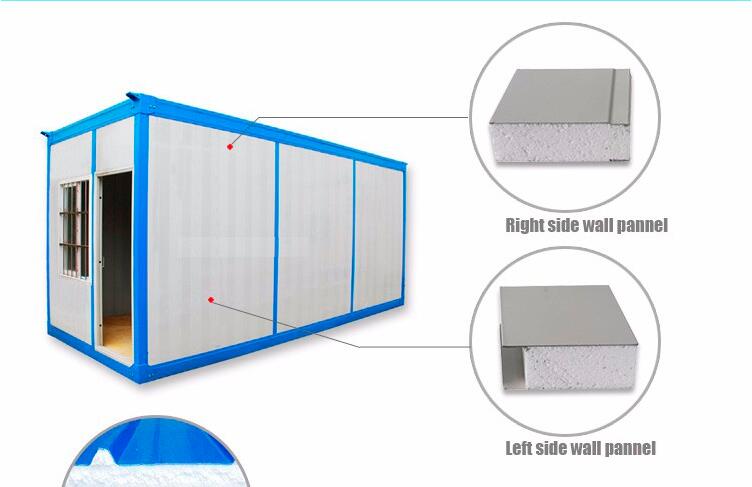 Application:
Panels System provides an one step solution in the form of insulated Walls and Roofing for easy and quicker construction of Various Roof and Wall of Factory Building, Hospitals,Storages,Exhibition Halls,Clean Rooms andFall Ceiling Purposes.
EPS Insulation Provides Light weight,Heat insulation,Water resistant with EPS of density 12-16 kg/m3
Colour coated Sheet requirement for Eps panel will be 0.45-0.6mm.
Panels are available in Various length (upto 8 mtrs) and Standard effective width of 980-1000 mm and thickness 50-100mm
The panels are finished with tongue & groove jointing arrangement
Panels For Both Wall & Roof Available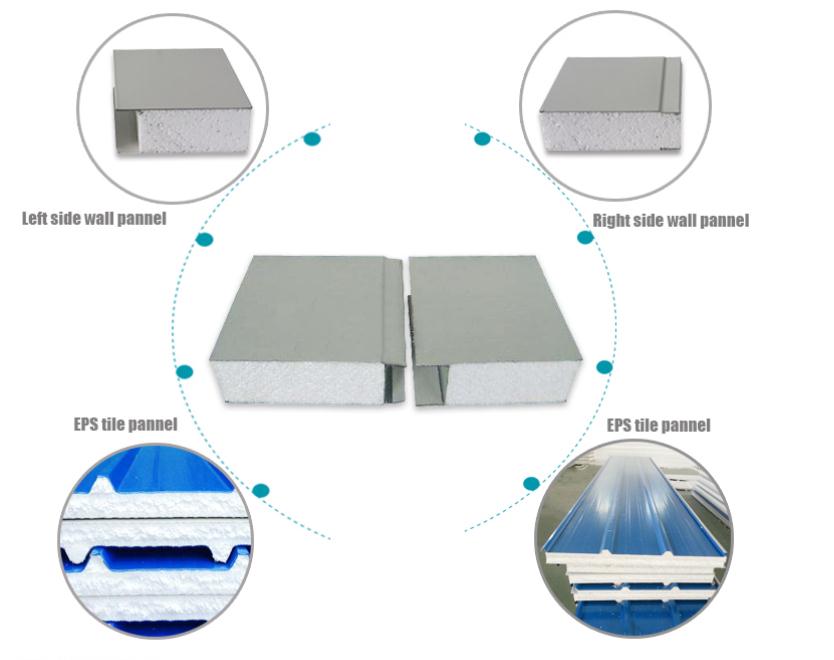 Specifications
No
ITEMS
DESCRIPTION
1
Structures
-The upper and bottom sheets are respectively zinc-plated & color-coated steel sheets, thickness : 0,3-0,6mm-Core material: EPS, Density: 11-40 kg/m3.
2
Width
-Effective width 1000mm, width: 1030mm
3
Length
-Depend on customer requirement (<12m transport within)
4
Thickness
-Wall panel: 50mm, 75mm, 100mm, 150mm
Roof panel: 50mm, 75mm, 100mm, 150mm
5
Color
-Blue, Ivory, White, Grey…
6
Applications
– Prefabricated house, Industrial sheds, Warehouses, Commercial complexes, indoor/outdoor stadiums, cold storage, buildings & indoor partitions etc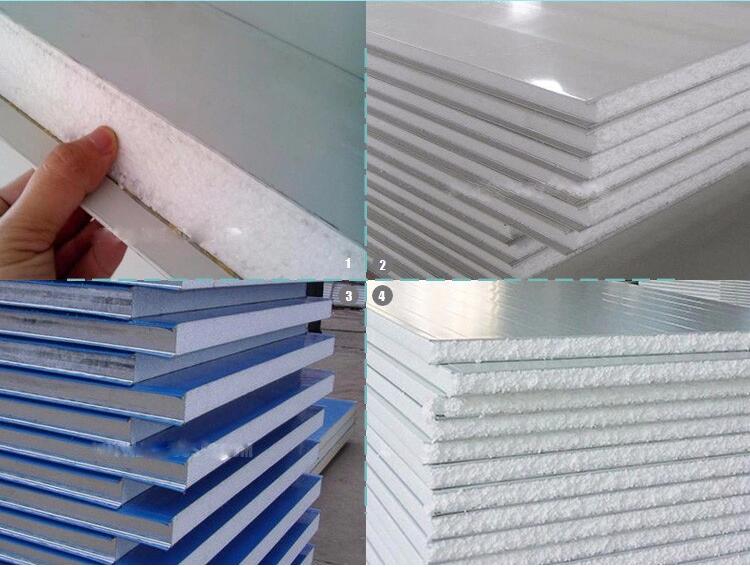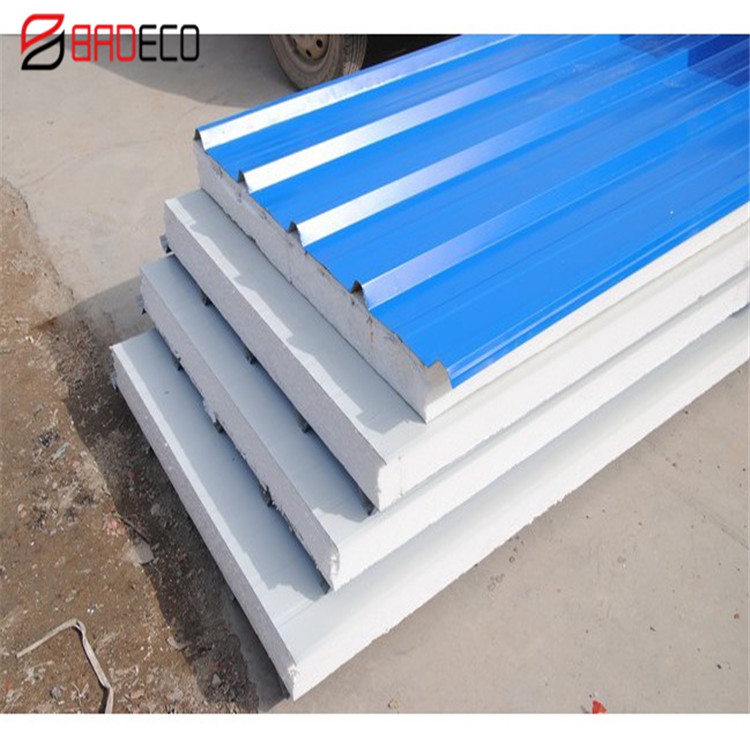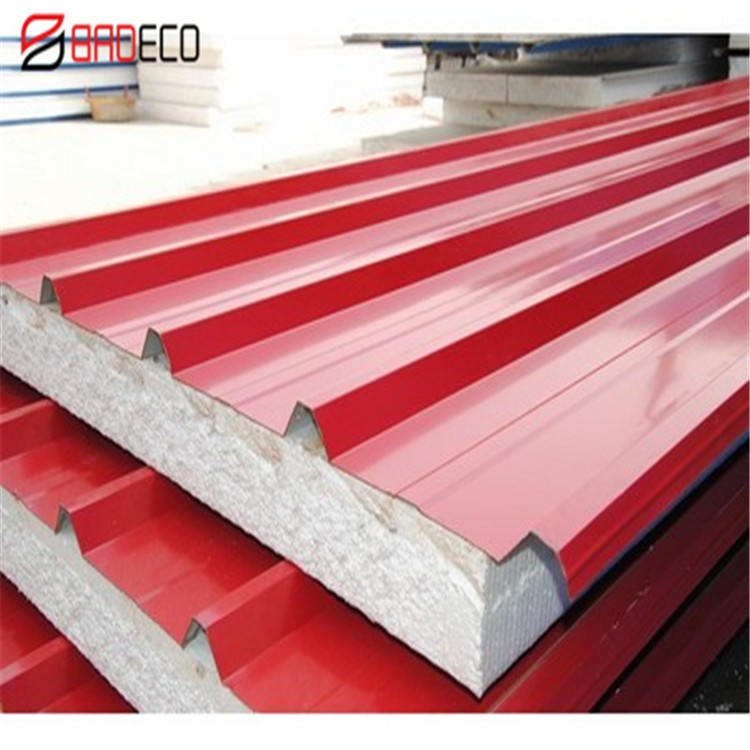 Features
1. Major savings in energy cost
2. Light weight and easy installation
3. High standard of thermal insulation
4. Can be produced rapidly and on demand in the required quantity and length
5. Can be easily transported to wherever they are needed
6. Lower cost solution compared to traditional building materials
7. Saves construction and maintenance cost
8. Provides durability and long life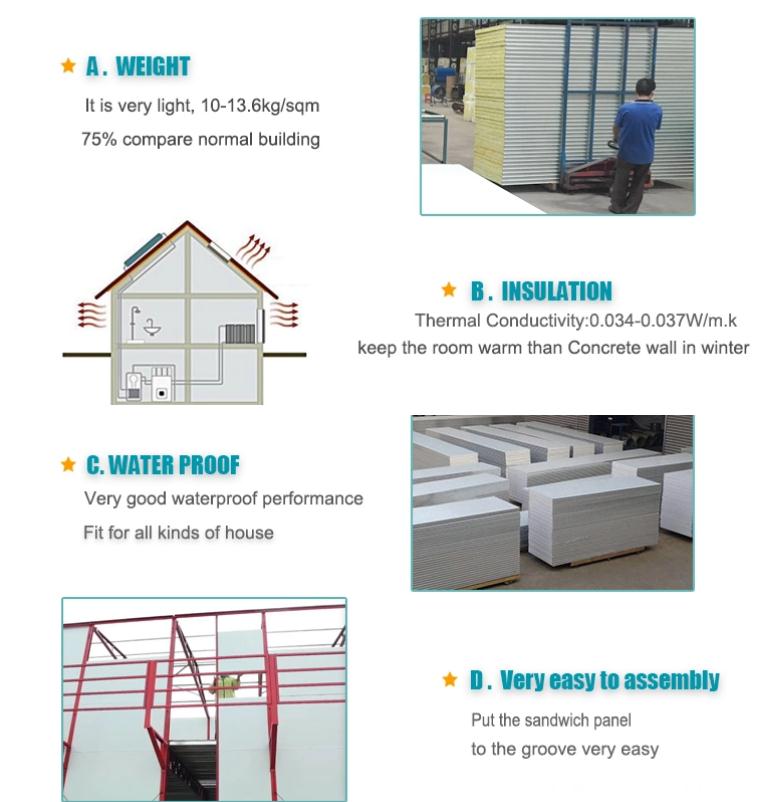 Advantage
SUPER FLAME RETARDATION

The coefficient of thermal conductivity is 0.023w/(m.k), which ensures better thermal insulation efficiency. In practice, this effectively keeps the building absorbing heat and brings enormous economic benefits.

ECONOMICAL

Great flame retardation and the complete removal of cold bridges (during the rafter installation), do help reduce heating bills.

DURABLE

BRD PU sandwich panels are the most durable thermal insulating material in the construction industry. Under the normal maintenance, its service life is the same with buildings.

ECOLOGICAL

100% of the material is recyclable and the panels are friendly to the environment at the production and disposal stages.

EASY AND QUICK INSTALLATION

Compared with traditional thermal insulation methods, BRD use less material while the installation process is less time-consuming and labor-demanding leading to lower building costs.
Application
PU sandwich panels are applied as external walls and internal division walls, installed vertically or horizontally on single- or multi-span structure. Thanks to its hidden joint the panel ensures very aesthetic look of the wall or façade.  In particular the panels can be applied in
Industrial buildings,

Store houses and logistic centres,

Commercial buildings and offices,

Food industry facilities,

Agricultural objects

Sport halls.
Sandwich Panel Installation
1, First of all, it must carry on the construction preparation before installation, include personnel, materials, etc. All will be well prepared.
2, The installation of wall panel, it should check whether the verticality and levelness of metope purlin installation requirements, wall frame column vertical degree meets the requirement.
3, Before installation polystyrene sandwich panel, it should first mounting plate bottom water retaining plate and the bottom of the window to block water board, water retaining plate and wall frame beam connection with self tapping screw fixation.
4, Polystyrene sandwich panel links with ground.
Lateral links: fixed eps sandwich panel with the ground at the other end of the round hole with steel frame fixed, connection between the two plate mouth involution, if occurrence crack of the connectors available heat preservation to fill.
Vertical links: the gap between plates, using the dedicated button concave groove in the fixed wall panel.
Sandwich Panel Accessories