Description of Rockwool Sandwich Panel
Rockwool Sandwich Panel
are composed of 3 layers, the external and internal is two dyed Galvanized or Aluminum corrugated plates, and core high density Rockwool (Mineral Wool). Due to the perfect fire proof performance, rock wool panel are applied as external walls and internal division walls, installed vertically or horizontally on single- or multi-span structure. The panels can be installed horizontally or vertically. The core is made of mineral wool, delivered by Rockwool. Thanks to their properties the panels may be applied in object that require very high fire resistance. As the most effective acoustic materials used in construction. Take the 50 mm thick rock wool sandwich panel for example and the panel can absorb the sound over 30 db/m2.Widely used in the steel structure factory building, activities room, roof, wall, air clean room ceiling and partition.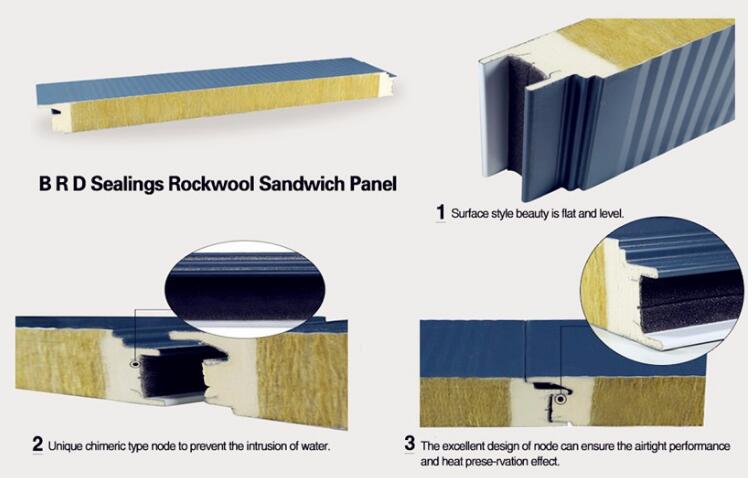 Polyurethane sealing side rock wool sandwich panel used the assembly line production process, give full play to the rock wool core material of the unique properties, such as fireproof, sound-absorbing, and good use polyurethane excellent waterproof performance, and avoids the shortcoming of rock wool bibulous absorb moisture, let polyurethane, rock wool board got fully the advantages of integration, to carrier to save, thus effectively extend the service life of the product.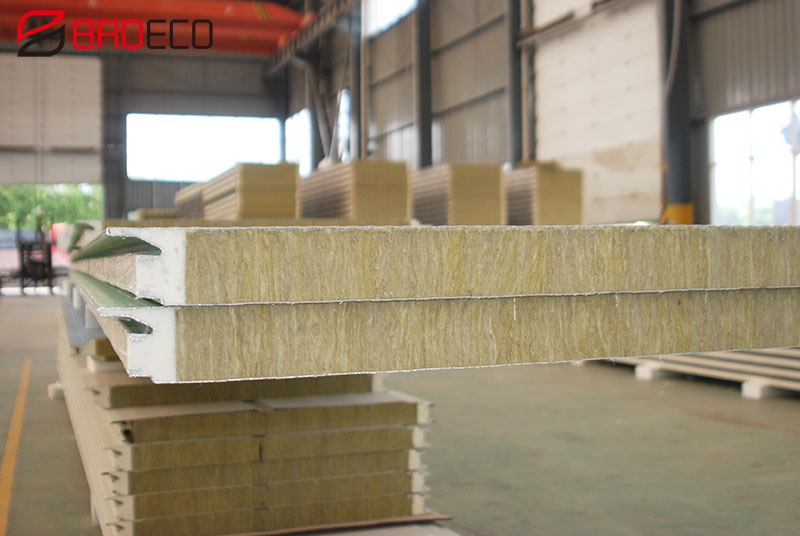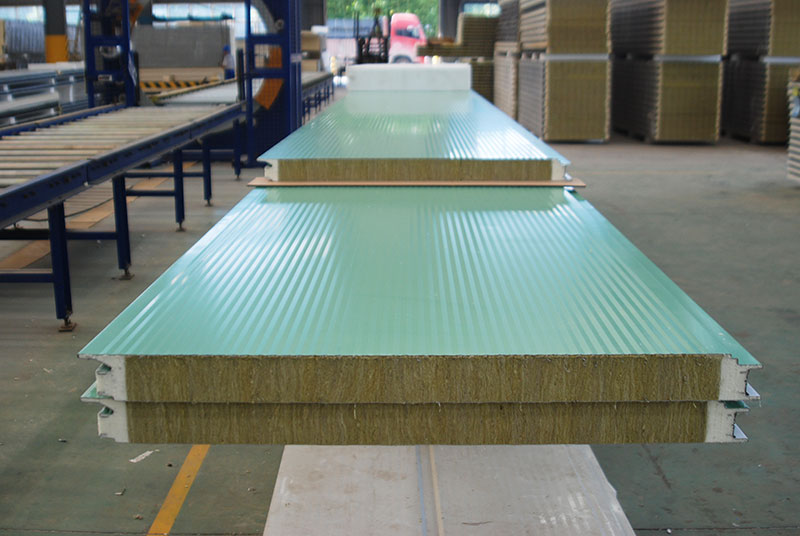 Specifications
Panel characteristics
Panel thickness [mm]
50
75
100
150
200
Functions

External walls
partition walls
internal ceilings cover
objects insulation

Standard Facings

steel sheet coated with polyester paint, 25µm

Aluminum sheet with Zn 50 – Zn 180g

Steel thickness [mm]
0.4, 0.5, 0.6, 0.7, 0.8
Rock wool core material
density 100 / 120 kg/m³
Panel areal weight [kg/m²]
15.50
18.50
22.5
30.00
36.50
Thermal conductivity λD[W/mK]
0.043
Thermal transmittance
U-value [W/m²K]
0,63
0,48
0,39
0,27
0,20
Acoustic insulation [dB]
27
Length [mm]
As customized
Effective width [mm]
1000mm(option 950,1150)
Fire resistance
-
EI 90 / E 120
E 120 / EW 60
Corrosion resistance
C1, C2, C3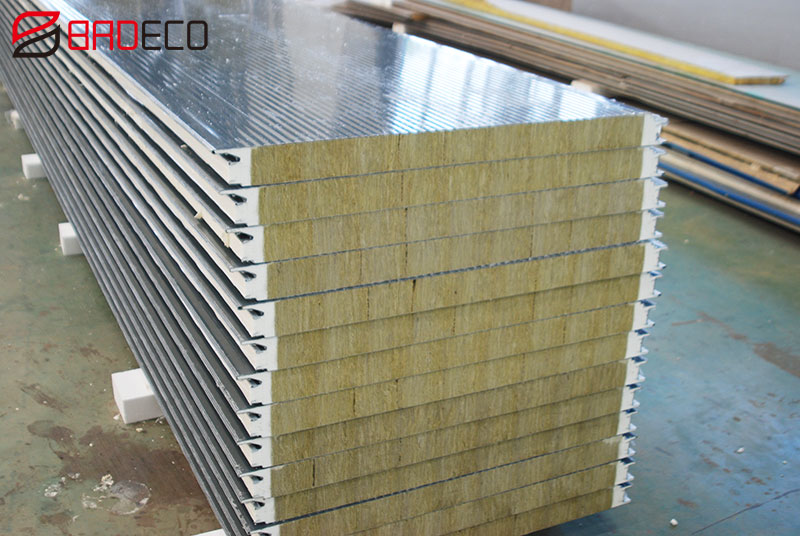 Usage of
Sandwich Panel Rockwool
Can be used for wall,roof,floor and partition of cold storage, mobile house, suburban housing, suburban housing,industrial plants, warehouses, supermarkets, hospitals, stadiums, activities room,clean workshop and reconstruction residence, villa, kindergarten, commercial building, remodeling of old structures, heat insulation fire places, airport, etc.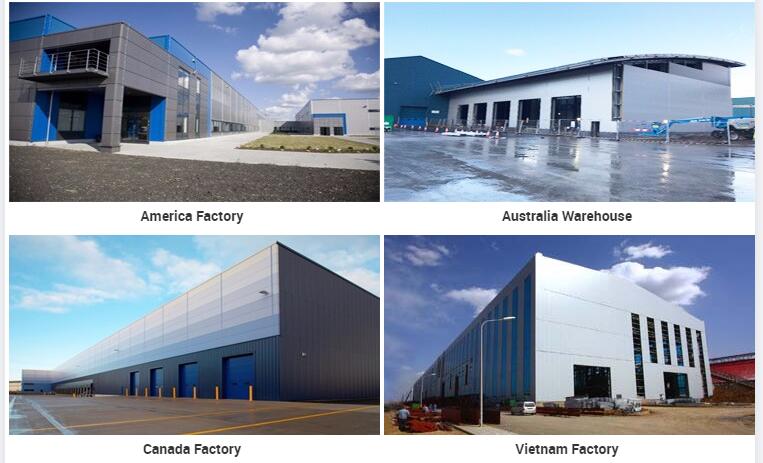 Company Introduction
BRD Group was established in 1995, which is a listed company in Middle China. It is one of the earliest building materialsmanufacturers.There are more than 30 million square meters production area, more than 500 existing staffs.
BRD Group is committedto make the buildings more green, more environmentally friendly and energy saving.
BRD Group is located in Changge Industrial Zoon, Xuchang city, Henan province. Also have two branch workshops located in Zhengzhou and Qingdao city. The three cactories enjoy 100,000 square meters. 7 automatic production line to produce on time, the garage door machine can make 100 sets per day.
We have attend many exhibitions all over the world, and our products are very popular and had been sold to 100 countries all over the world.
The products manufactured by our company are equipped with the certificates.

Advantage
COST SAVING & DURABILITY

The rock wool sandwich panel insulation stone wool is made from rock, making it naturally durable and stable over the lifetime of a building. As the unique physical structure, rock wool panel is not affected by changes in temperature or humidity. This means the owner can create a pleasant and stable temperature year after year, while saving energy and money for cooling/heating.

FIRE SAFETY

Have you ever seen rock burn? Neither have we. Rock Wool Panel Products are rated Non-combustible. Basalt stone wool adopted to Sandwich Panels is fire-protecting insulation material, it's fibers' resistance to high temperatures, will limit the buildings to fire or spread. Using Rock wool sandwich panel will improve the building's fireproof performance, protect life and property safety.

SOUND INSULATION

Sound is tough to get through rock. Rock wool sandwiched panels are the most effective acoustic insulation used in construction. Installing Rock wool panel provides a real reduction in external noise, our rock wool panels allow builders to design the right acoustic environment for each space, whether it's a workshop, concert hall, air clean room, or residential house.

FAST CONSTRUCTION

Rock wool sandwich panels and accessories are produced in full accordance with the building layout drawing, it is fast  and flexible to install on the construction site. The construction period can be shortened by more than 40%. Therefore, rock wool sandwich panel is ideal for fast constructed prefabricated buildings, such as industrial warehouse, container house, prefab buildings.

LONG LIFE TIME

Rock wool sandwich panel is produced by the automatic production machine at a constant temperature, all the raw materials and process are in strict accordance with the international quality management system. which means the quality of the product is stable, can guarantee the life time of 25 years.