Description
Rock wool sandwich panel is applicable to project with fairly high demand upon fire protection . The rock wool fibers plum to the color steel sheet plates . high density strip rock wool crisscross with the length of the color steel plates . All of this guaranteed the rock wool sandwich panel have a good bearing capability . Wall panel and roof tile has 50mm , 75mm , 100mm , 125mm , 150mm foam with 0.326mm , 0.4-0.6mm steel sheet widely use for prefabricated house, construction site, building, warehouse, worker camp, office ect .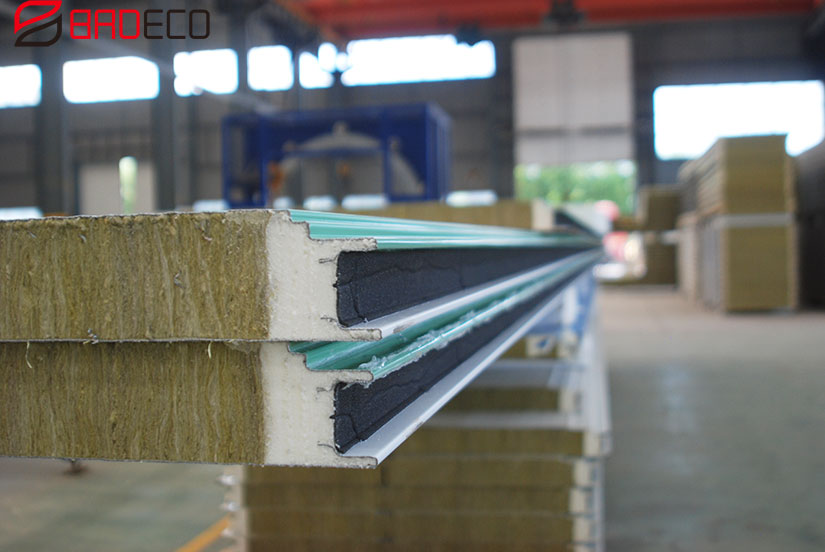 It is low cost and thermal insulation , fireproof , sound insulation .The fix width of wall panel or roof tile has 1150 and 950mm , length is no limited but less than 12000mm because of the transportation . The surface metal coat could adopt galvanize aluminum steel sheet , galvanized aluminum zinc color steel sheet and the galvanized color steel sheet.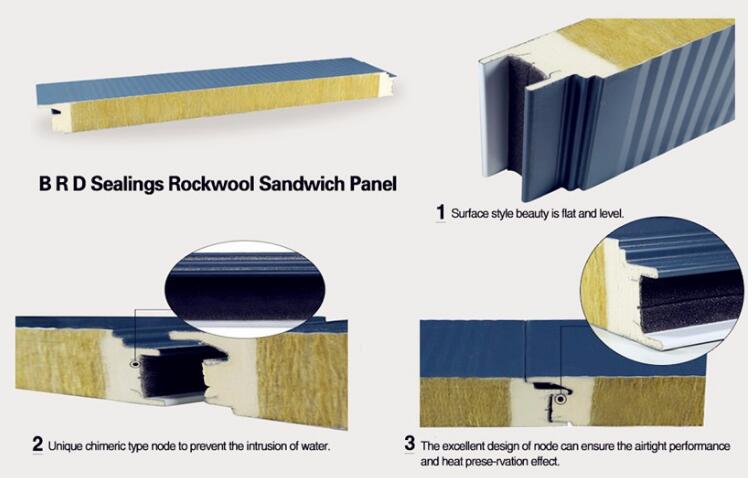 Taking high-quality natural rocks such as basalt, gabbro and others as main materials, the core material is a kind of artificial inorganic fiber after the process of high temperature melting and fiberization with the characteristics of very low slag and dust content and non-absorbent.it is "real rock wool"!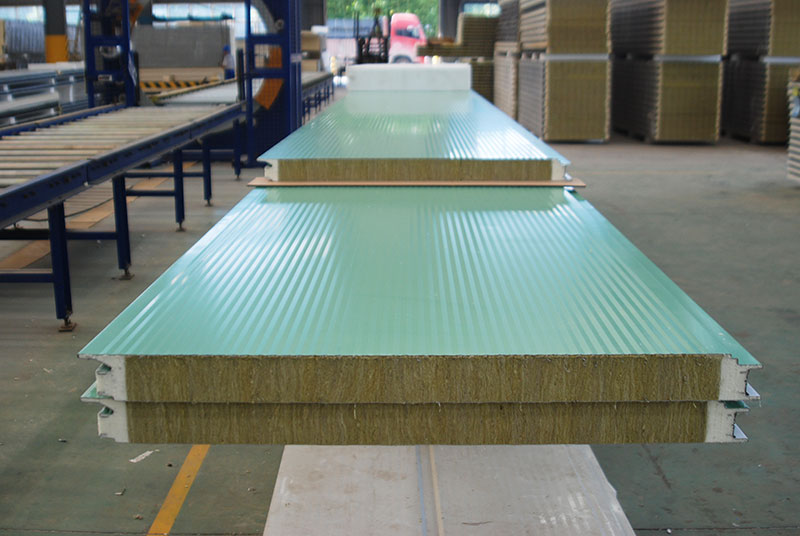 Specifications
Panel characteristics
Panel thickness [mm]
50
75
100
150
200
Functions

External walls
partition walls
internal ceilings cover
objects insulation

Standard Facings

steel sheet coated with polyester paint, 25µm

Aluminum sheet with Zn 50 – Zn 180g

Steel thickness [mm]
0.4, 0.5, 0.6, 0.7, 0.8
Rock wool core material
density 100 / 120 kg/m³
Panel areal weight [kg/m²]
15.50
18.50
22.5
30.00
36.50
Thermal conductivity λD[W/mK]
0.043
Thermal transmittance
U-value [W/m²K]
0,63
0,48
0,39
0,27
0,20
Acoustic insulation [dB]
27
Length [mm]
As customized
Effective width [mm]
1000mm(option 950,1150)
Fire resistance
-
EI 90 / E 120
E 120 / EW 60
Corrosion resistance
C1, C2, C3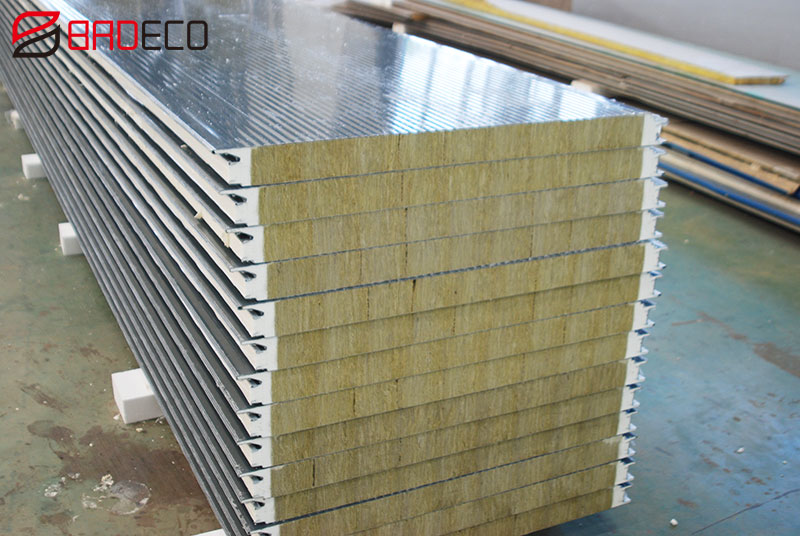 Rock wool core material: the density of 120kg / m ; rock wool block staggered laying, the fiber direction perpendicular to the sandwich is still under the surface, and closely Detailed enrich the entire vertical and horizontal surface movement plate. And wool and, through the high intensity blowing agent connections between the lower plate is formed integrally between rock wool blocks. Sophisticated production process to ensure to produce high density rock wool insulation between the body and the metal plate inside the inner wall of strong adhesion, so that the rock wool sandwich panel has good stiffness.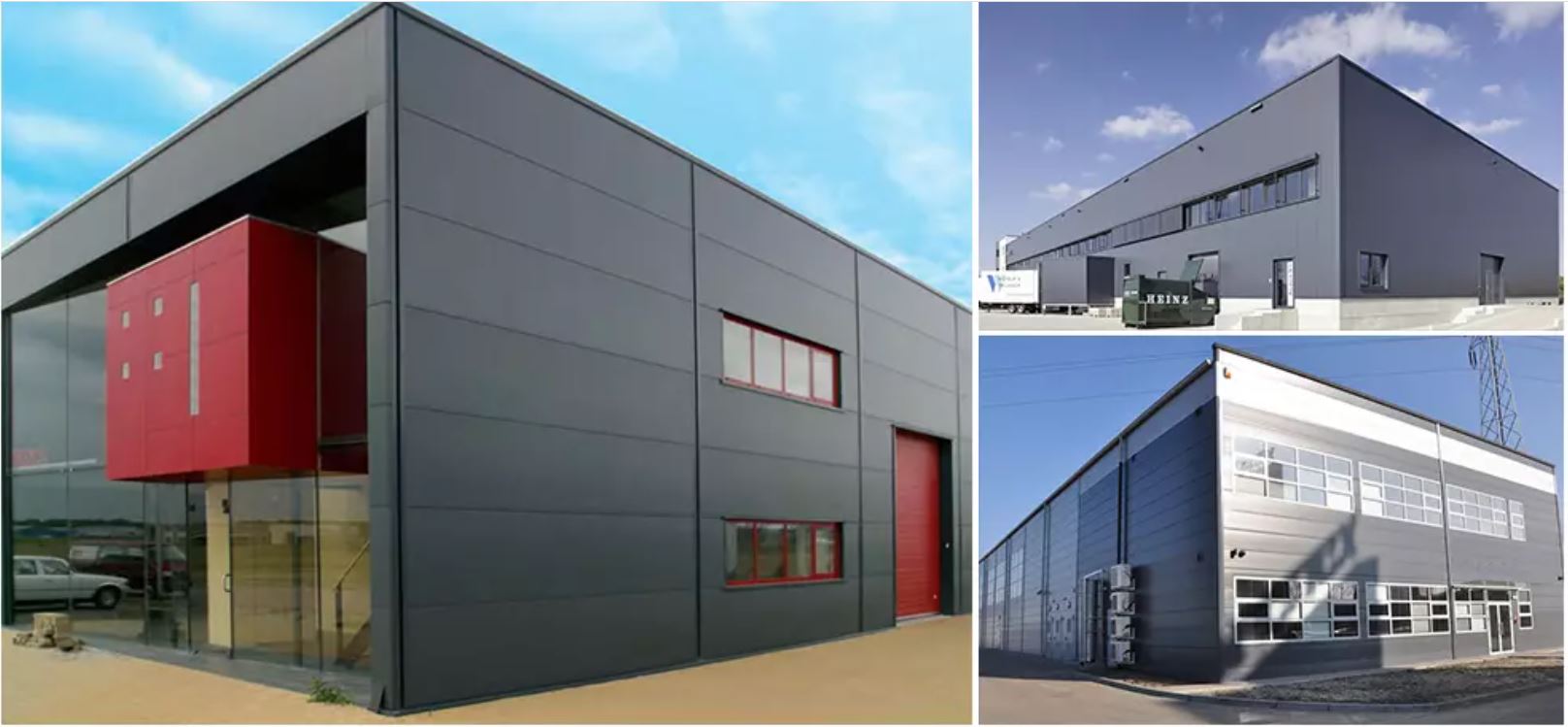 Features
BRD panels offer excellent sound absorption. The Noise reduction Coefficient (NRC) range from 0.80 to 0.95.
Fire Performance
BRD panels do not contribute in any way to the spreading of fire. It does not shrink, stretch or deform when exposed to fire. It does not cause smoke or any burning droplets in case of fire. It significantly contributes to improved fire safety.
Water absorption by partial immersion: 0.5kg/m2. Water absorption by full immersion: 10% to 11.5% of weight (tests done as per BS2972)
Storage
To store for long duration, BRD panels should be stored indoor. If stored outside, the panels should be stacked clear of ground and covered with a securely anchored weather proof sheet. The panels should not be left exposed to weather.
BRD panels are not hazardous to health and do not contain asbestos.
BRD panels are free from CFCs, HFCs and HCFs and contain phenol resins within the permissible limits.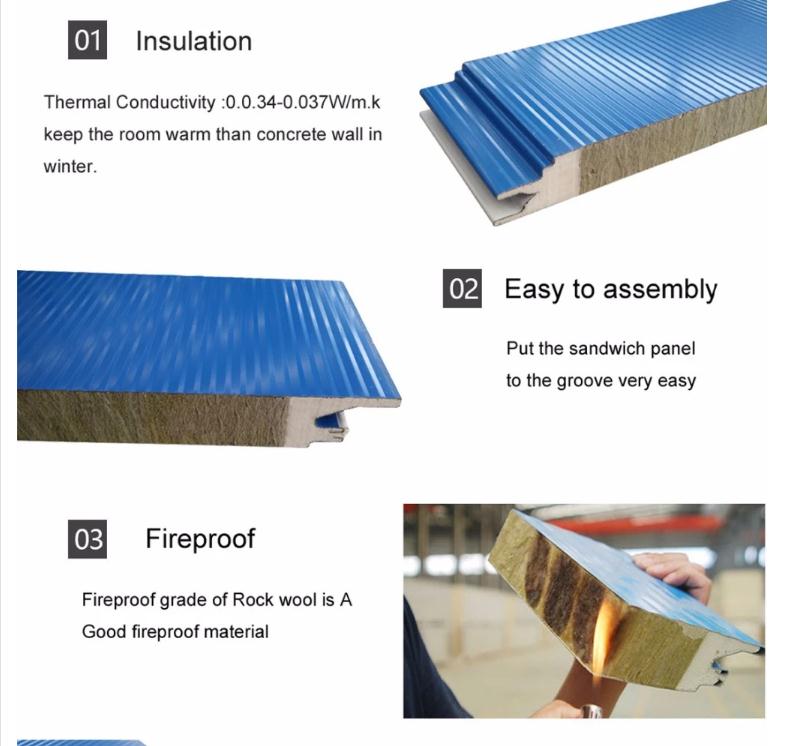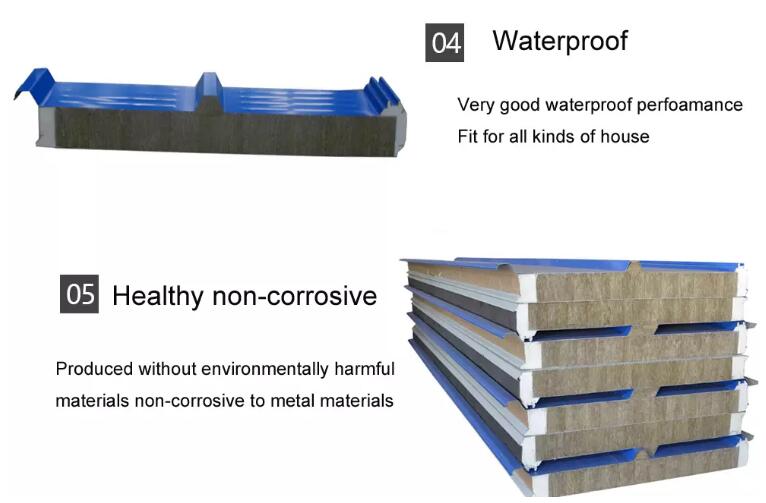 Advantage
COST SAVING & DURABILITY

The rock wool sandwich panel insulation stone wool is made from rock, making it naturally durable and stable over the lifetime of a building. As the unique physical structure, rock wool panel is not affected by changes in temperature or humidity. This means the owner can create a pleasant and stable temperature year after year, while saving energy and money for cooling/heating.

FIRE SAFETY

Have you ever seen rock burn? Neither have we. Rock Wool Panel Products are rated Non-combustible. Basalt stone wool adopted to Sandwich Panels is fire-protecting insulation material, it's fibers' resistance to high temperatures, will limit the buildings to fire or spread. Using Rock wool sandwich panel will improve the building's fireproof performance, protect life and property safety.

SOUND INSULATION

Sound is tough to get through rock. Rock wool sandwiched panels are the most effective acoustic insulation used in construction. Installing Rock wool panel provides a real reduction in external noise, our rock wool panels allow builders to design the right acoustic environment for each space, whether it's a workshop, concert hall, air clean room, or residential house.

FAST CONSTRUCTION

Rock wool sandwich panels and accessories are produced in full accordance with the building layout drawing, it is fast  and flexible to install on the construction site. The construction period can be shortened by more than 40%. Therefore, rock wool sandwich panel is ideal for fast constructed prefabricated buildings, such as industrial warehouse, container house, prefab buildings.

LONG LIFE TIME

Rock wool sandwich panel is produced by the automatic production machine at a constant temperature, all the raw materials and process are in strict accordance with the international quality management system. which means the quality of the product is stable, can guarantee the life time of 25 years.  
Application
Rock wool sandwich panels are applied as external walls and internal division walls, installed vertically or horizontally on single- or multi-span structure. Thanks to its hidden joint the panel ensures very aesthetic look of the wall or façade.  In particular the panels can be applied in
Industrial buildings,

Store houses and logistic centres,

Commercial buildings and offices,

Food industry facilities,

Agricultural objects

Sport halls.