Description
Garage Doors are made from a number of rigid sections/panels that are hinged together and move vertically in the opening, then horizontally along the ceiling, guided by tracks and counter-balanced with springs.These doors are the most aesthetically adaptable of most garage doors, and are available in a range of colors, patterns and may also feature windows. Sectional doors can be made of wood and other materials, but are most commonly made of steel.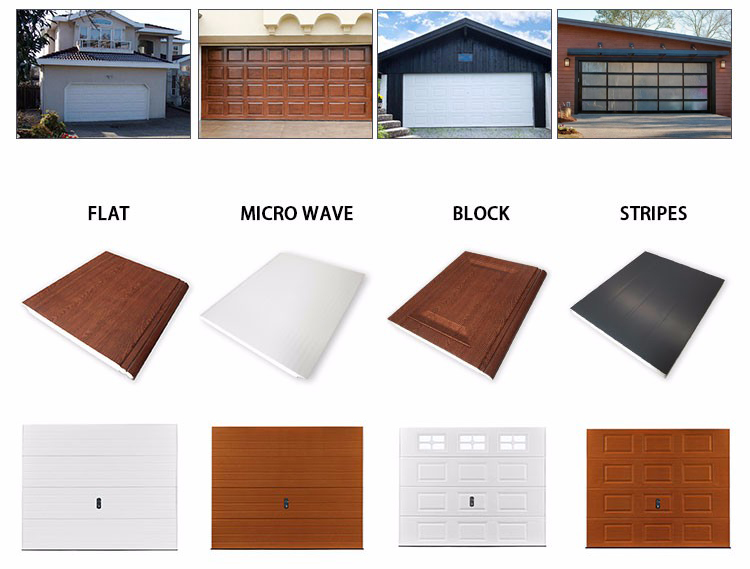 The Sectional garage door offers the greatest degree of aesthetic adaptability. It comprises a number of large sections or panels that come in a wide range of designs and colors. Sectional Garage Doors are most commonly made from pressed steel, but can be manufactured from timber to provide a more natural look. We are proud of the quality products we sell and the outstanding customer service we offer.
Specifications
SPECIFICATIONS FOR PU GARAGE DOOR PANEL
Materials
1. 304 STAINLESS STEEL 0.38mm-0.48mm
2. Aluminum material door panel with polyethene foam filled
3. Galvanized steel plate, with any ral color. 0.4mm-0.7mm
Door panel height
435mm& 485mm&535mm
Normal Color
Porcelain white, light gray,coffee color and stainless steel color, or any Ral color.
Rail & Fitting

Hot dip galvanized steel rail and galvanized bracket & hinges.
Sealing
With full sealed, weather resistance & well protection & soundproof.
Control
Automatic & remote controlled. Power rate: 220V/380V
Feature for door motorized system
Route memorable, door self locking when power cut off, self-checking up, non hand nipping, safety operation.
Certification
ISO & CE & TUV certificated.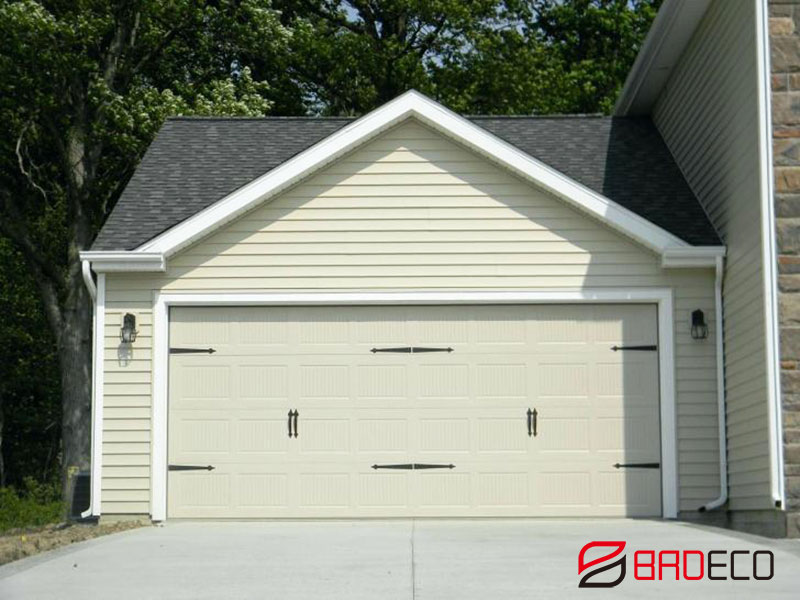 Features of Garage Door
1. Microcomputer program control, easy to use.
2. Super mute, green and environmental protection.
3. There is an emergency lock in case of power failure and the switch is easy.
4. Safe and firm, the total thickness of the door panel is 4-5 cm, and the middle of the door body adopts the internationally recognized thermal insulation and sound insulation material-polyurethane.
5. Beautiful, elegant and concise.
6. Rebound in case of obstruction to ensure the safety of people and vehicles.
7. The parts are easy to disassemble and update, which is beneficial to maintenance.
8. Good thermal insulation, wind resistance and tightness.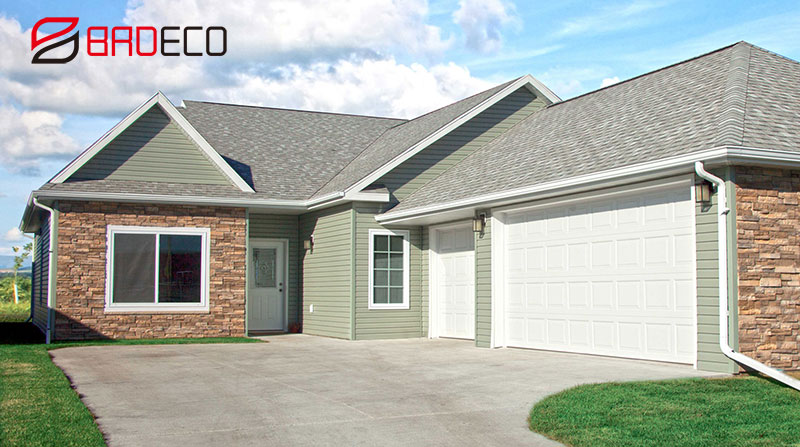 Accessory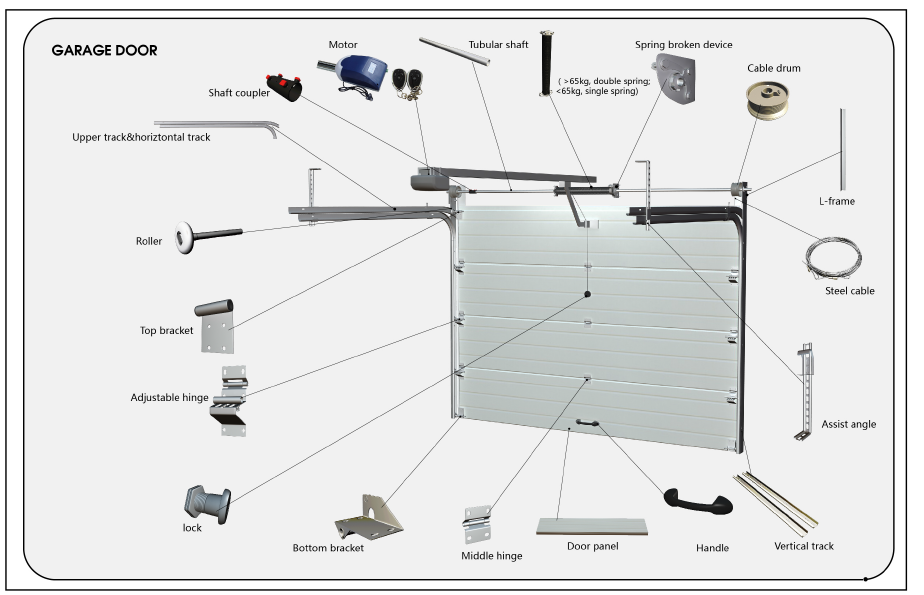 Advantage
SPACE-SAVING

Sectional doors open vertically upwards and are suspended under ceiling to save space, door type gives full use of space inside and in front of garage for parking.

VARIABLE FITTING

Shape of garage opening is not of prime importance, whether square, angled, with segmental or full centered arch, always gives perfect fit.

WIDER PASSAGE

Additional passage width makes it easier to drive in and out of garage, this is decisive advantage for large cars, vans and off-road vehicles.

SEALED ALL-ROUND

Flexible and weather-resistant seals on four sides, keep out wind and rain, due to its large-sized profile lip, bottom seal can easily accommodate slight irregularities in floor.

HIGH INSULATION PERFORMANCE

Our sectional door panels provide high levels of insulation. The foam core between the inner and outer steel sheets of the door panel creates effective interruption of cold bridges, thus preventing transmission of heat or cold.

EASY & FAST INSTALLATION

Our doors has pre-installed & tested in our factory, the spring system and the track system could be pre-installed/riveted in factory 30%-50% installation time will be saved.
Application
This kind of door is widely used in rolling shutter doors and garage doors in banks, shops, warehouses, factory workshops, villas, etc.
Installation
Get step-by-step instructions on how to install a garage door
STEP 1: Measure, Attach Hinges and Handles
STEP 2: Set the Bottom Piece Into Position
STEP 3: Install the Remaining Panels
STEP 4: Install the Rollers
STEP 5: Secure the Tracks and Attach the Springs
More technical guidance please contact us.