Description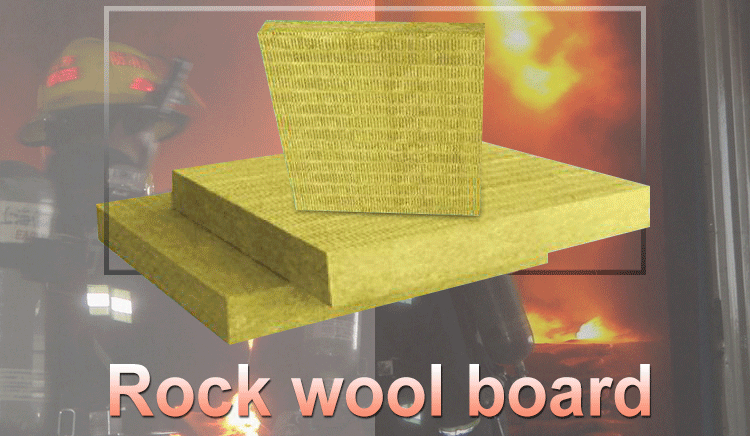 Rock Wool Board
Rock wool is made from natural basalt, by high temperature melting, through the high-speed centrifuge equipment made of artificial inorganic fibers, add the special adhesives and dustproof oil, then after heating curing, make various specifications, different requirements of the rock wool insulating pipe.
Standard Specification
| | |
| --- | --- |
| Product name | Rock wool board |
| Density (Kg/m³) (1Ibs/ft 3 =16kg/m 3 ) | 60-200 |
| Length (mm) | 1200 |
| Thickness(mm) | 50-150 |
| Width (mm) | 600 |
| Size(mm) | 1200*600(50-150) |
*Other size and density may be available on request.
Technical Date Sheet
Item

Unit

Density(Kg/m³)(1Ibs/ft 3 =16kg/m 3 )

50-90

100-150

Combustion Performance

-

Class A1 non-combustion

Compression Strength(10% deformation)

K pa

≥40

Hydrophobic rate

%

≥98.0

Melt temperature

℃

>1000

Acidity ratio

--

≥1.8

Moisture absorption

%

≤1.0

Thermal Conductivity (Average25℃)

W/(m*k)

0.034-0.036

0.036-0.040

Dimensional stability

%

≤1.0

Water absorption (Partial Immersion)

Kg/m³

Short term (24h)≤1.0

Long term (28d)≤3.0

Thickness tolerance

mm

±2

±3

Right angel degree of deviation

Mm/m

≤5

Paleness Tolerance

mm

≤6

Property after Ignition burning

Shrinkage Percentage

%

(

750℃, 0.5h

)

≤8

Mass loss rate

%

(

750℃, 0.5h

)

≤10
Application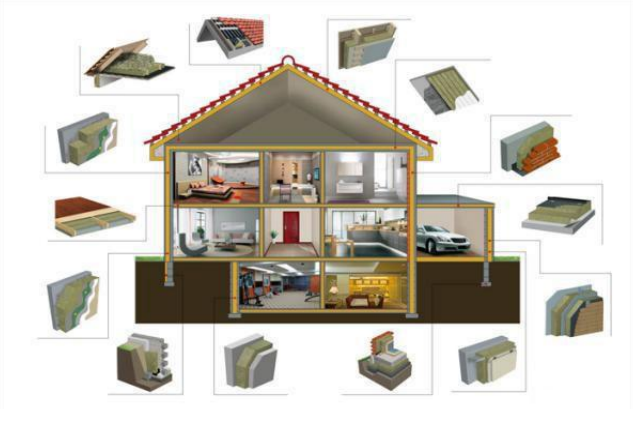 BRD Rock wool products are applicable for facade insulation, various curtain wall insulation of new buildings, reconstructed buildings, roofing insulation for various commercial buildings, industry workshop, and public buildings, interior decoration and partition insulation. The fire resistant rock wool products are used for fire blocking of various buildings. The rock wool well insulated buildings are much more energy efficiency, fire save and thermal, acoustic comfortable.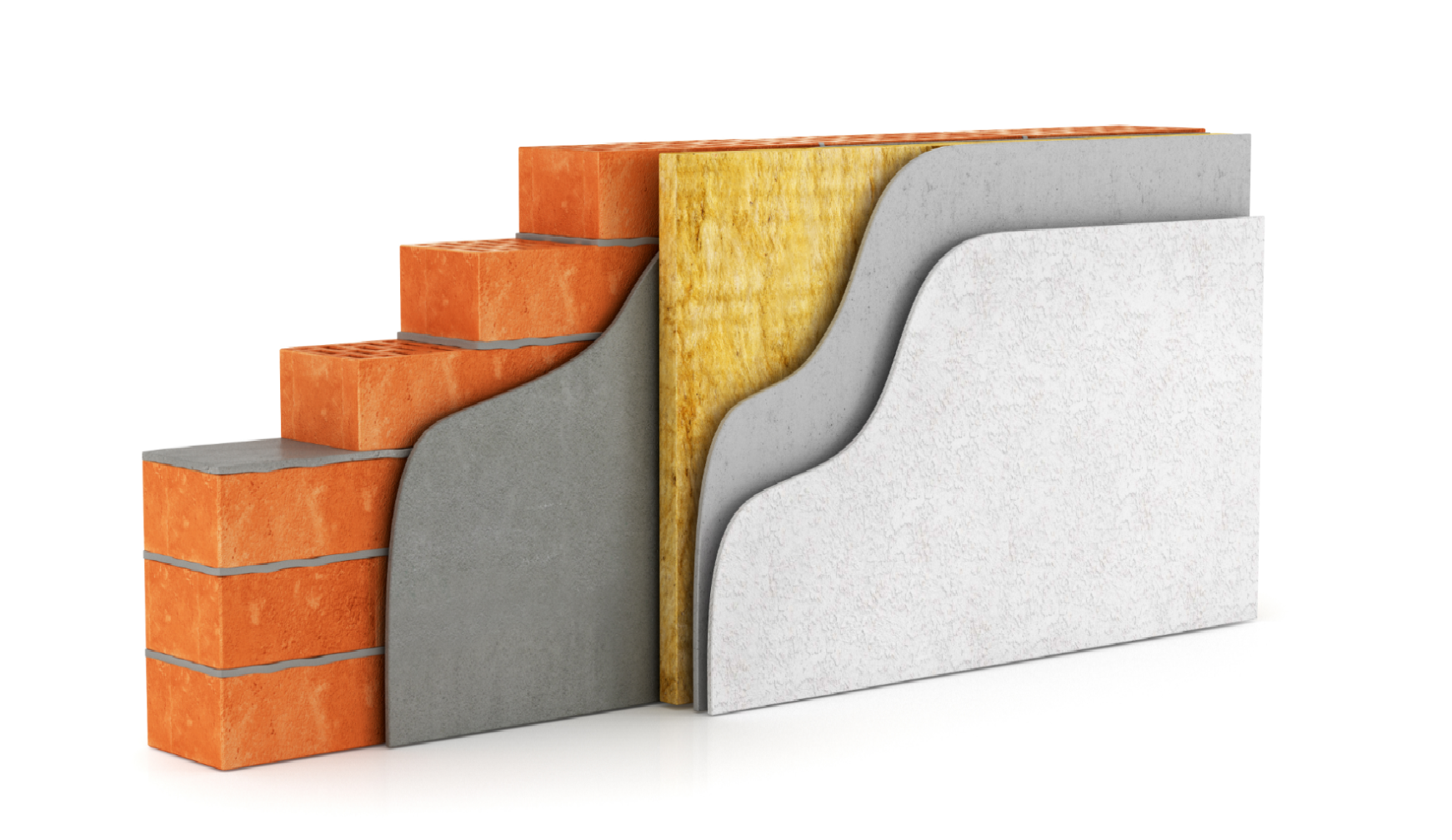 No1. Rock wool board External Wall insulation solution
Description: The con-structure makes the rock wool board as the core, is non-bearing fixed on the external Wall.
Application: It is used for energy saving ofinsulation for new building and building reform It uses for frame structure, masonry structure etc. The extra advantage of low density and high strength is prominent when the rock wool uses in the high building or super high building, meeting the requirement of pressure to keep safe.
Feature:
1. High pressure and tensile strength.
2. Small size, light weight, easilyinstallation.
3. Grade A fireproof, Without being limited by the building height on insulation thermal material fireproof grade.
4. Rock wool insulation layer has good air permeability.
5. Good compatibility.
6. High hydrophobicity,low water absorption, good size stability to keep long life.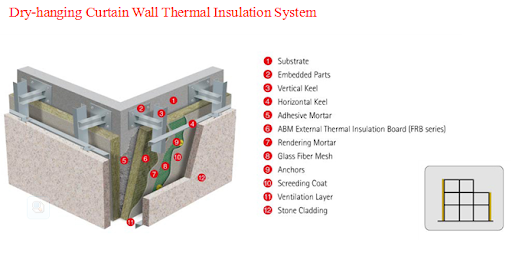 No2. Dry hanging ventilating curtain wall insulation solution
Description: This construction meas making the compact structure of concrete or brick etc to be as the foundation wall, dry curtain wall or nontransparent curtain wall to be as the facade, using the rock wool between the foundation wall and the facade to be as the
insulation thermal layer.
Applications: Using for external wall insulation of the new building and the reform building
Features:
1. Good insulation thermal effect tosave energy.
2. Grade A fireproof.
3. Sound-absorbing noise reduction andshock absorption.
4. high compression resistance andtensile strength.
5. High hydrophobic rate, low water absorption, size stability good to keep a long life.
6. Non corrosion for metal material and components.
7. Good air permeability.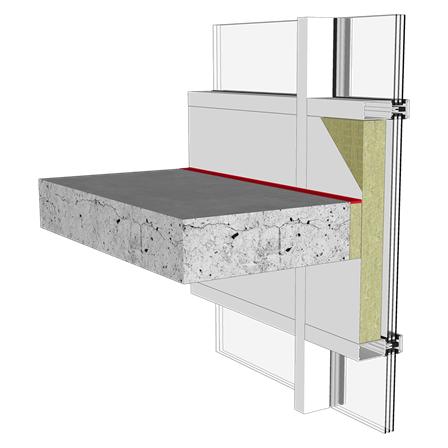 No3. curtain wall fire insulation solution
Description:Curtain wall fire insulation system including curtain wall fire blocking and curtain wall windowwall and the window wall of the fire insulation.
Features:
1.Excellent fire resistance, up to 2 hours offire-resistant limit.
2.Long and stable thermal insulation performance
3.Sound-absorbing reduce noise and eliminateelastic vibration.
4.Not rotting moldy, non-corrosive metal components
5.Environment friendly, have an advantage inget LEED project.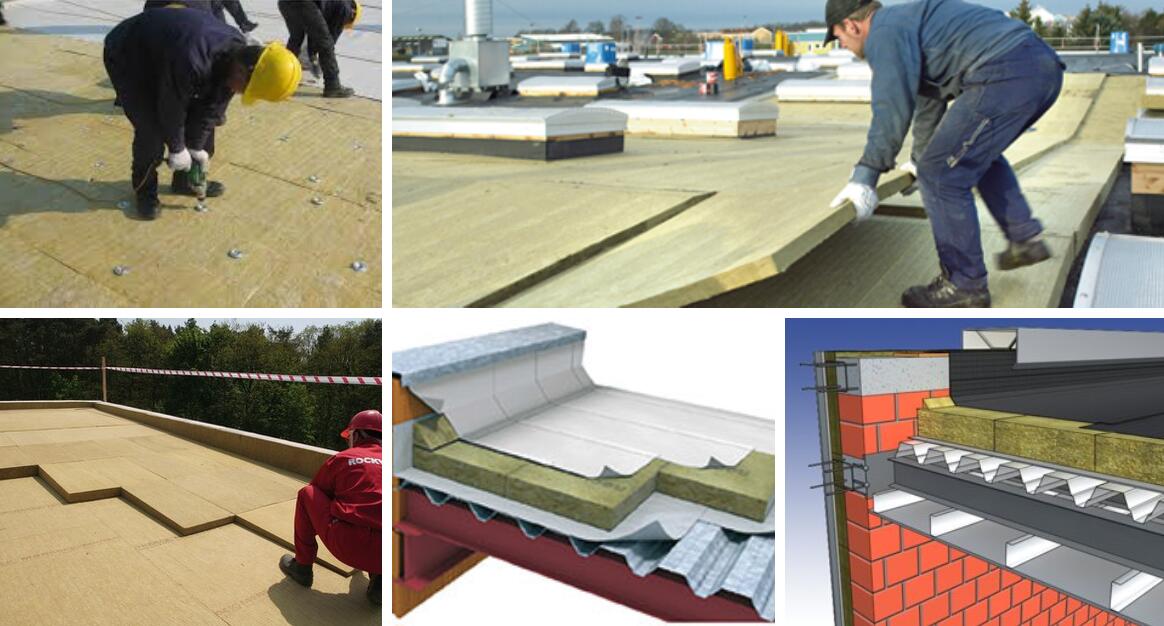 No4. Other Applications:
The gap fire blocking between curtain wall and floor, as well as the fireproof and insulation between window sill wall and window wall , fire proof door, etc
Case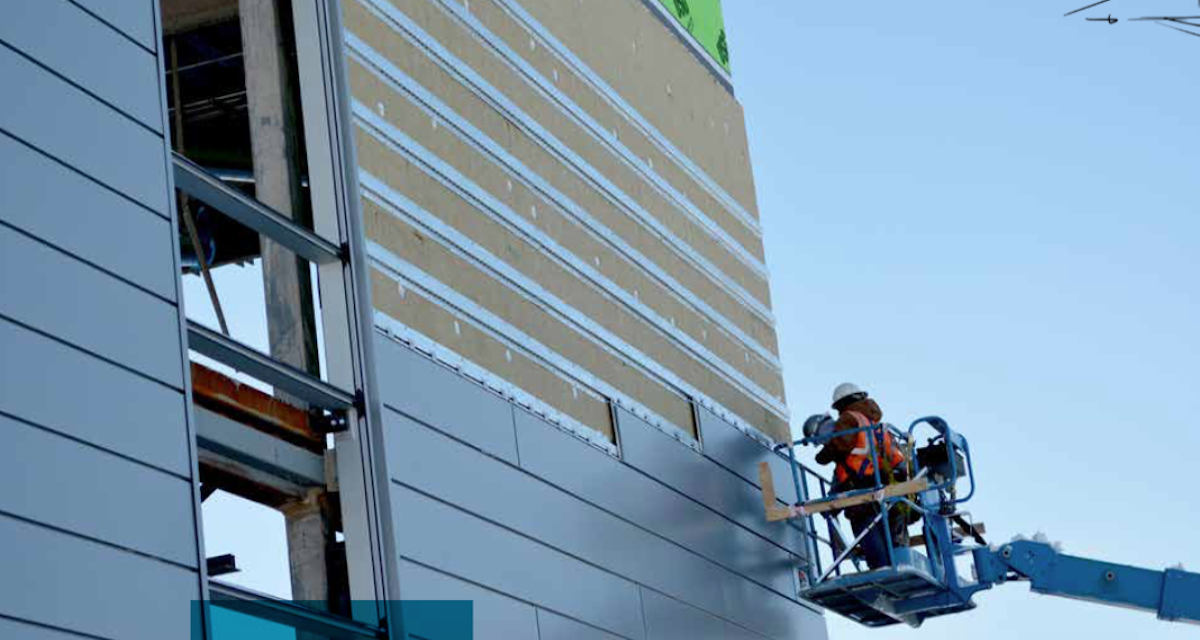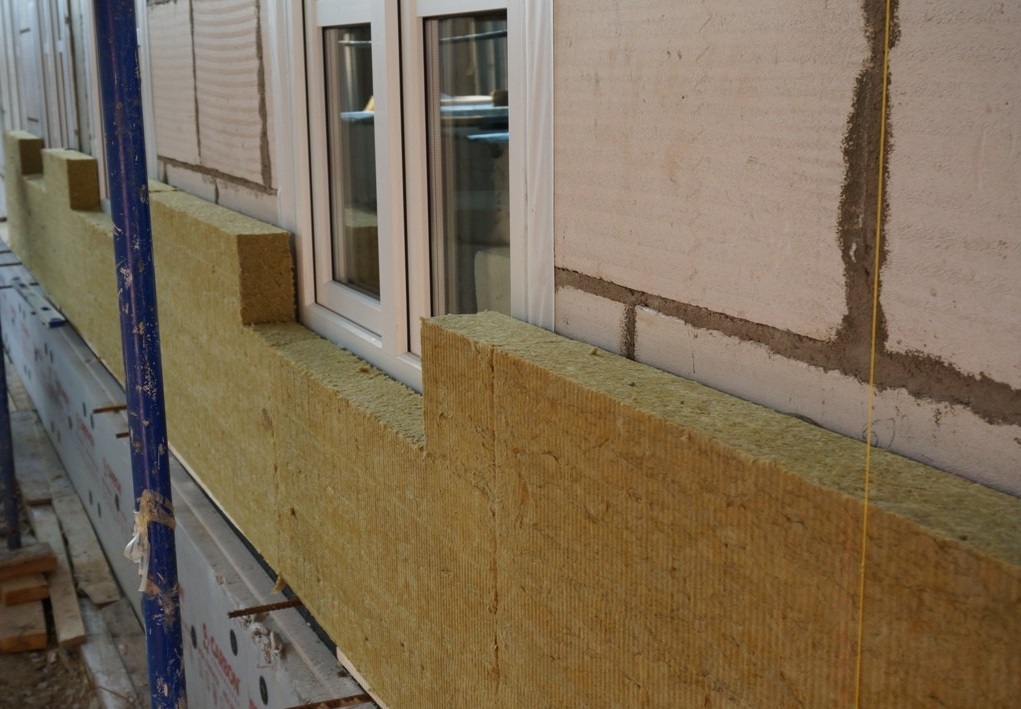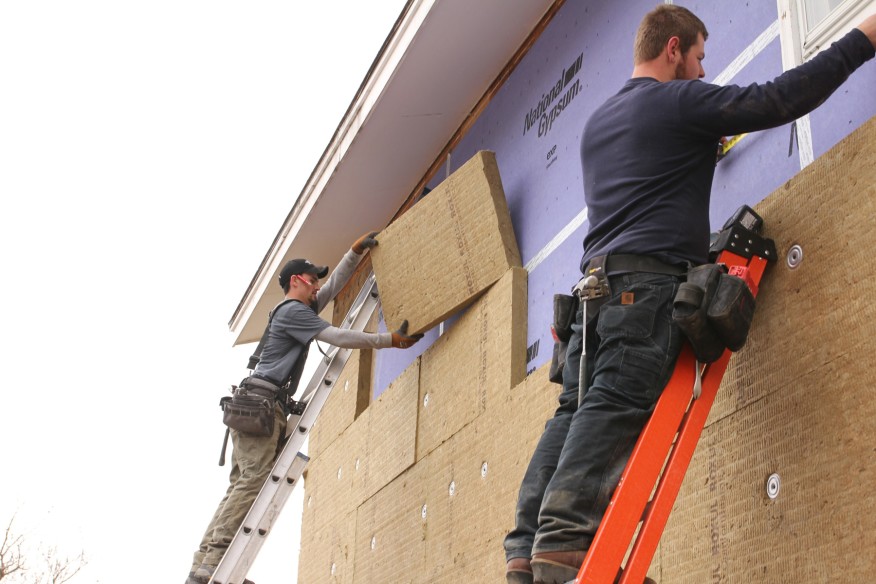 Rock Wool Board Production Process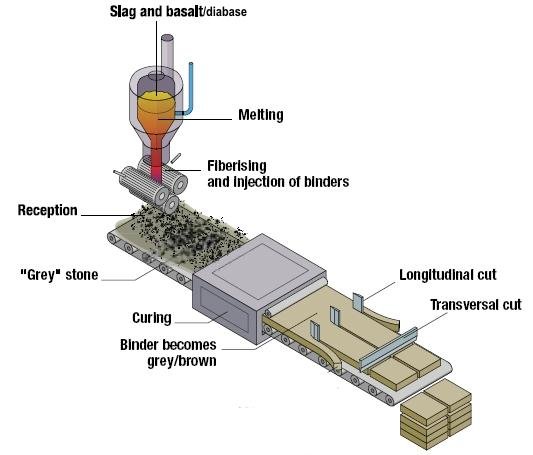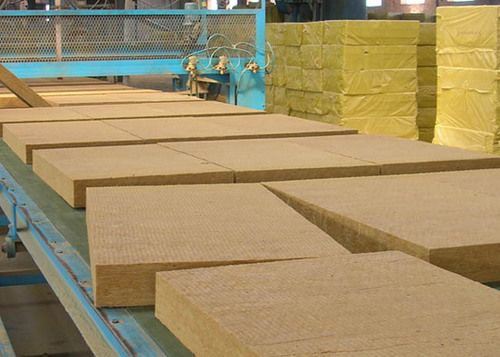 Rock mineral wool panel insulation is made of select fine basalt as the major materials which is pulled into 4-7µm non-continuous fibers after melted ( at the temperature of 1450 ℃ (2642F) by adopting advanced international four-roller centrifugal cotton-making procedures, and adding a certain of adhesives, dust laying oil and water repellent into rock wool fibers. It can be made into products series with different density according to various uses through the technology of sedimentation.
Packing & Delivery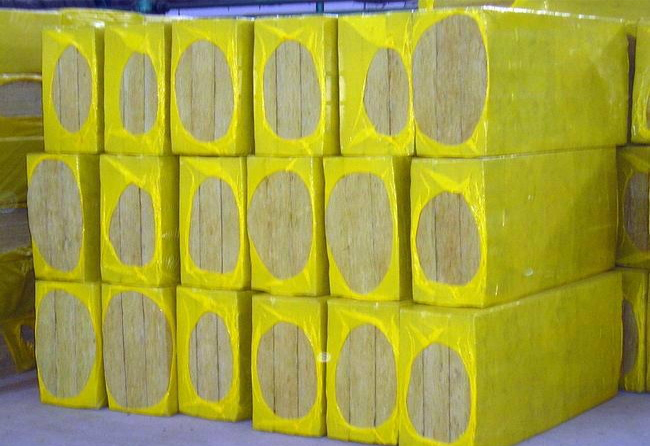 The board is packed in white or yellow color PE bag, 6-8 pieces in one PE bag for moisture proof .
Advantage
Fire Prevention

Excellent fireproof capability,Rock wool is non-combustible inorganic material and the fire does not release toxic flue gas so that can maintain the stability of the building structure and prevent the spread of fire

Water Repellent

High hydrophobic fate, low moisture absorption rate and low water absorption; excellentanti-humidity performance.

Sound Absorption

rock wool and slag cotton products have excellent sound insulation and sound absorption performance. The sound absorption mechanism is that the product has a porous structure. When the sound waves pass, friction is generated due to the flow resistance, so that part of the sound energy is The fiber absorbs and blocks the transmission of sound waves.

Environmental protection

Green thermal insulation materials and no harm for body

Compressive Strength

The folded rock wool board with certain compression resistance has greater drawingstrength,and it does not tend to peel off and has excellent improved durability.