Description
Glasswool sandwich board is a new type of construction panel which made of outer layers both sides of steel coil and inner layer of polystyrene. It is a light weight and economic kind of panels. It is widely used on Prefabricated house, Industrial sheds, Warehouses, Commercial complexes, indoor/outdoor stadiums, cold storage, buildings & indoor partitions etc.
Glass Wool Panels consist of top and bottom PPGI, Zinc, Aluminum sheet, with high density basalt wool as core insulation.
Due to the excellent performance of fire resistance and acoustic insulation, glass wool sandwich panels are commonly adopted for fire-resistance and soundproof buildings.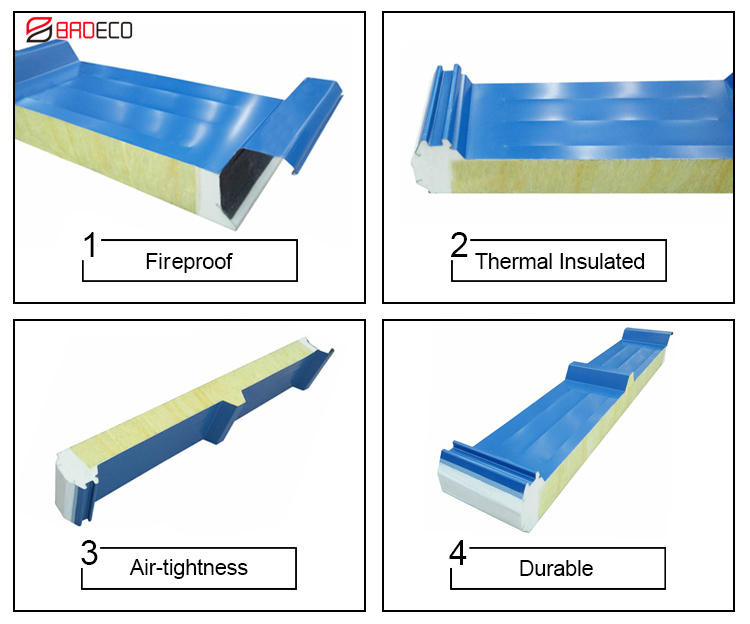 Characteristics Of  Glass Wool Panels
1. Fireproof
Glass wool as core material is fireproof and can stand high temperature up to 1000℃. And in case of fire, glass wool panels can effectively prevent fire from spreading.
2.Waterproof
Good sealing and high-density material keep water from being leaked.
3. Heat Preservation
The heat conductivity index can be as low as 0.043w/m·k. And with precise design,glass wool panels can assure . Good sealing and heat preservation.
4.Noise Reduction
The noise reduction capacity of glass wool wall panels is ≧37dB(50mm),which makes the inner environment from being affected by outside noise.
5.Long Service Life
The life expectancy of glass wool panels can be as old as the building of its high-quality materials under normal usage and maintenance.
Advantage
INSTALLATION

Easy and quick to install

Economics

Significant savings in site installation costs,energy saving thermal insulation

Beautiful

Panel comes in a range of aesthetically pleasuring colors

Fireproof

Good reactions to fire properties

Durabl

Long lasting, stood the test of time in the extremes of harsh climate

PU sealing

Better waterproof,Prevent the inner core from falling apart
Application
Industrial plants, warehouses, stadiums, residential buildings, villas, board and wall board.
Installation
1, First of all, it must carry on the construction preparation before installation, include personnel, materials, etc. All will be well prepared.
2, Before the installation of glass wool wall panel, it should check whether the verticality and levelness of metope purlin installation requirements, wall frame column vertical degree meets the requirement.
3, Before installation glass wool wall panel, it should first mounting plate bottom water retaining plate and the bottom of the window to block water board, water retaining plate and wall frame beam connection with self tapping screw fixation.
4, Glass wool wall panel links with ground.
Lateral links: fixed glass wool sandwich panel with the ground at the other end of the round hole with steel frame fixed, connection between the two plate mouth involution, if occurrence crack of the connectors available heat preservation to fill.
Vertical links: the gap between plates, using the dedicated button concave groove in the fixed glass wool wall panel.