Description
The main frame materials of light steel villas are steel frame and panels. People can freely assemble various modules according to their own design drawings to create personalized houses.
BRD Prefabricated house is more stable than the one that made of welding frame steel . Besides, it is cheaper, more economic. With long lifespan, which can last almost 70 years, all the materials of Prefabricated house is Q550. It is locked with bolts, which can be used repeatedly without any maintenance.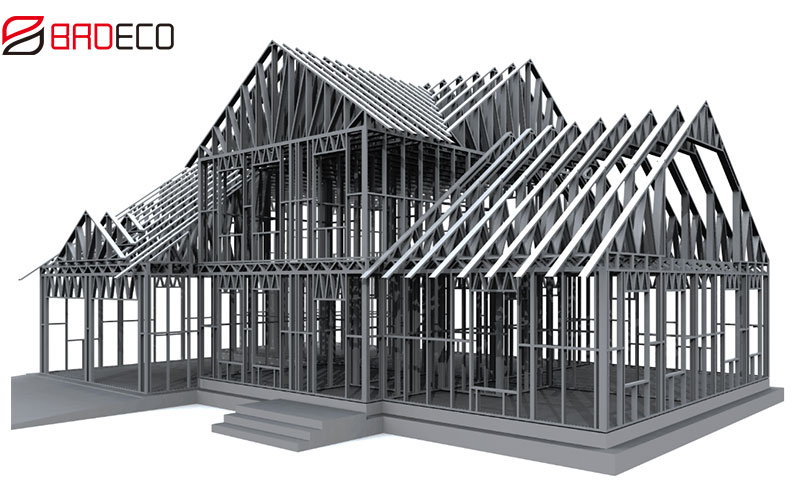 Structure
1. Basic system
Light steel structure houses generally use strip foundations, which can greatly reduce the cost of foundation construction. A reasonable anchoring method during installation can ensure a strong connection between the foundation and the main body.
2. Wall system
The external wall system is generally between 120-200㎜. The pipeline can be set inside the wall, with good concealment and more beautiful appearance. The wall is filled with glass fiber wool, which has good thermal insulation, heat insulation and sound insulation
3. Floor system
The floor is made of high-strength hot-dip galvanized C-type and U-type light steel components. The floor beams are covered with structural boards that have been strictly protected against moisture and corrosion to form a strong and earthquake-resistant floor system.
4. Roofing system
The roof trusses are assembled by combining various light steel components. Generally, there are triangular roof trusses and T-shaped roof trusses, which can easily and flexibly implement various complex roof shapes.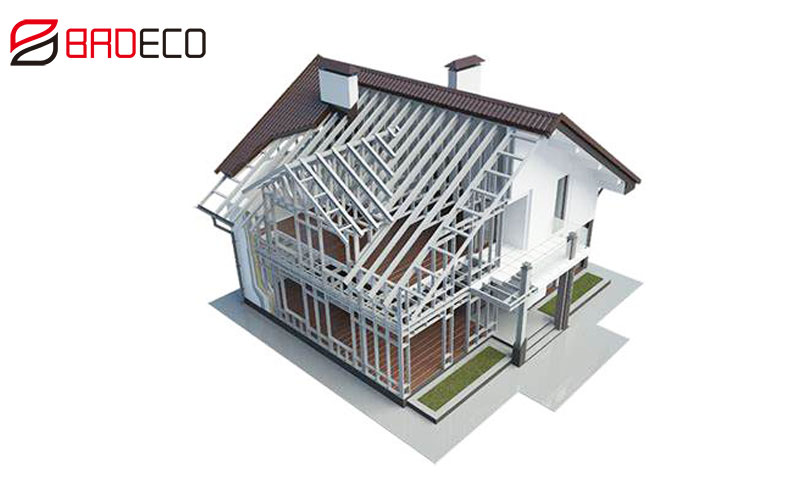 Advantage
Light steel villas have outstanding advantages in terms of energy conservation and environmental protection. Compared with the traditional construction method, the modular building adopts the "factory manufacturing + site installation" mode, which enables the project to reduce the construction water consumption. It can also reduce construction waste and decoration waste by about 70% and shorten the construction cycle by more than 40%. Modular buildings increase overall production efficiency by about 2-3 times.
Characteristics
1. Lightweight and thin-walled profiles are used, with light weight, high strength and small occupied area.
2. The keel profiles required for the whole house frame are automatically produced by the equipment, the size measurement is accurate, no error, and it is convenient to install.
3. Structural design, detailed drawing design, computer simulation installation, factory manufacturing, construction site installation, etc. are carried out simultaneously with a small time difference.
4. There is no wet operation for the dry construction method above the foundation, and the interior decoration is easy to be in place at one time. The profiles are galvanized and coated with a beautiful appearance and corrosion protection, which is beneficial to reduce the cost of enclosure and decoration.
5. It is easy to expand the column distance and provide more separation space. Which can reduce the height of the storey and increase the building area. It has obvious advantages in adding layers, reconstruction and reinforcement.
6. The new wall material has a wide range of applications, a large number of lighting belts, and good ventilation conditions.
7. The indoor plumbing and electrical pipelines are all concealed in the wall and between floors, with flexible layout and easy modification.
8. The house can be relocated. All materials can be recycled without causing garbage, which is in line with the sustainable development strategy.
Light steel structure houses are gradually accepted by the public as a convenient and environmentally friendly house form.