Description

The quick-pack container house is also called "Flat Pack Container House", which evolved from the export-oriented container house. After optimizing the design of the box-type materials, it is gradually suitable for construction sites. The flat pack container house is spliced. After the entire box is transported to the construction site, there is no welding at all, and it is completely connected by screws, which is very convenient and fast.
Structure
1. A structural system based on a steel structural frame and lightweight wall panels, consisting of a bottom structure, a top structure, corner posts and interchangeable wall panels;
2. Dimensions: 6055 (length) x 2400 (width) x 2800 (height) mm
3. Through flat packing, 4 container houses of combined transportation can be realized;
4. According to the structure of the wallboard, it can be divided into color steel sandwich panel wallboard packing boxes and wooden frame plus board combined wallboard packing boxes.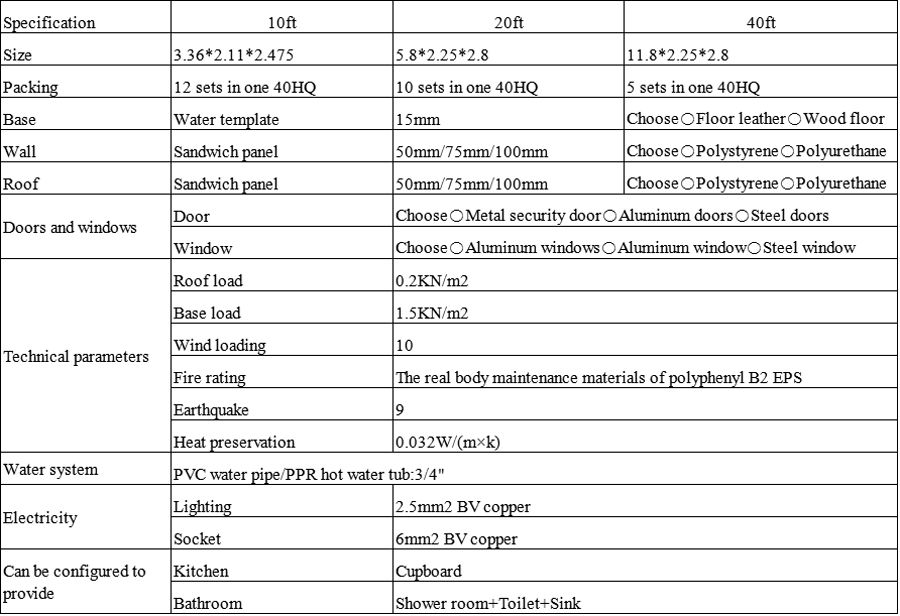 Application
Container houses are mainly used in construction workers' temporary dormitories, temporary offices, factory buildings, sentry boxes, shops, field work places, outdoor performances, exhibitions, large-scale sports events, mobile office buildings, warehouses and sentry posts.
It can also be used in offices, dormitories, conference rooms, warehouses, shops, toilets, equipment rooms and various temporary and mobile rooms in the construction, railway, highway, water conservancy, petroleum, tourism, and other industries.
Advantage
Convenient transportation

Full container transportation and it be increased or decreased at any time, especially suitable for units that frequently change the construction site.

Sturdy and durable

All container house is composed by steel. The overall weight of 2.3T, which is strong resistance to earthquakes, wind and deformation.

Waterproof

Good sealing performance and strict manufacturing process make the kind of movable room have good waterfroof.

Various uses

The movable container house is based on a standard steel chassis, which can generate many combined spaces. Such as conference rooms, dormitories, kitchens, bathrooms, etc.

Easy to disassemble

Superior performance, stable and firm, good shockproof performance, waterproof, fireproof and anticorrosive, light weight. It is a service life of more than 20 years.

Flexible layout

Doors and windows can be set at any position, indoor partitions can be set at any horizontal axis, stairs can be set indoors or outdoors
Materials and accessories
Colorful steel sandwich panel wallboard:EPS core material, glass wool core material, polyurethane core material, rock wool core material.
Doors and windows:Aluminum alloy sliding window, plastic steel window, plastic steel window
Other supporting facilities:Exterior corridor + awning, toilet, stairs
6.1 Typical functional unit of flat pack container house: Accommodation room

6.2 Typical functional unit of flat pack container house: bathroom

6.3 Typical functional unit of flat pack container house: Canteen restaurant

6.4 Typical functional unit of flat pack container house: Stairs, activity room

6.5 Typical functional unit of flat pack container house: Shower room